William Shakespeare
The 400th anniversary of William Shakespeare's death is April 23, 2016.
Did you know that there are actually many ways to spell his name? The estimate is that there are over 80 ways to spell Shakespeare's name! Even Shakespeare used different spellings such as Willm Shakespeare, Willm Shakp, and William Shakspeare.In fact, William never spelled his name the way his name is spelled today!
Considered to be the greatest writer of the English language, Shakespeare wrote 37 plays* during his lifetime. Probably, the three most famous works were Romeo and Juliet, Hamletand Macbeth. Shakespeare introduced thousands of words to the English language and also wrote 154 sonnets. It is said that next to the Bible, his works are the most quoted!
An estimated 1700 words which we use all the time were first used in the plays of Shakespeare.Words such as eyeball, hurry, lonely, frugal, majestic and generous are just a few. Shakespeare also used lots of expressions that are common today.Examples include: "Knock, knock, Who's there?", "green eyed monster", "vanish into thin air", "wild goose chase", "makes your hair stand on end", "so-so", "good riddance", "tongue tied", "night owl" and "eaten out of house and home".
Another interesting fact about Shakespeare you may not know is he is the reason there are millions and millions of starlings in North America!Native to Europe and parts of Asia, the story goes that aperson named Eugene Schiffelin really loved the work of Shakespeare. He was called a "bardolator". He decided tobring the songbird to the United States. In fact, he was part of a group that wanted to bring all the birds mentioned in Shakespeare's works, to North America, that weren't native to this continent. The year was 1890. The place was Central Park, in New York City.Schieffelin released 60 starlings in the famous park. Today, there are over 200 million of the birds flying over the skies of North America!
Did you Know?
Shakespeare wrote the words found onhis tombstone. At the time, it was common to remove buried bones in a cemetery to make room for new bodies. Shakespeare tombstone has a curse to anyone who would dare to move his bones. Shakespeare's bones were never moved! See his tomb(and read the curse) located inside the Holy Trinity Church in Stratford-upon-Avon.http://gouk.about.com/od/stratforduponavon/ig/48-Hours-in-Stratford-upn-Avon/Shakespeare-s-Grave.htm
Did you know that pencils were a new invention when Shakespeare was born?
In one of his most famous plays,"Romeo and Juliet", Shakespeare uses the word love150 times.
It is thought(based on a 17th century portrait of him), that Shakespeare wore a gold hoop in his left ear.
During the time of Shakespeare, plays were only performed in the afternoon.
Women were not allowed to participate in plays during the time of Shakespeare so all the roles were performed by men.
Questions:
What do you think of Schieffelin's efforts to bring a non-native bird to North America? Write a paragraph explaining your thoughts.

Why do you think, during the time of Shakespeare, plays were only performed in the afternoon?

Why do you think women weren't able to participate in plays?

What wouldyou place on your headstone?

Explain the meaning of 3 of the sayings of Shakespeare.
4."This above all; to thine own self be true."William Shakespeare
What do you think this quote by William Shakespeare is saying?
Teacher Page:
Extension Activities:
1. Check out this free printable: Common Phrases and Saying from Shakespeare: http://www.activityvillage.co.uk/common-phrases-and-sayings-shakespeareHave the students illustrate one of his phrases and write a short paragraph explaining what they think the quote means.
2. This short video is GREAT! A tour of the Globe Theater. Two kids lead the tour and explore the famous theater on their own. Lots of information about some of Shakespeare's most famous plays.
http://www.shakespearesglobe.com/playground/exploring-shakespeare
3. Check out this cartoon video summary of Romeo and Juliet: http://www.watchknowlearn.org/Video.aspx?VideoID=29453&CategoryID=820Have students act out the balcony scene.(My students really had fun with this!)
Check out this Resource:
Check out my Reader's Theater Script on William Shakespeare.Shakespeare is a guest on a talk show and the studio audience asks questions about his life. Part of my Ms. Bie Ografee's Talk Show Series. Comprehension/Did You Know?section, LOTS of extension activities/links/key. https://www.teacherspayteachers.com/Product/William-Shakespeare-A-Readers-Theater-Script-2299401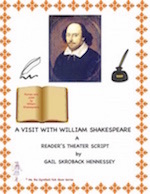 Note: Illustration from wpclipart.com
*37 plays are what most believe Shakespeare wrote in his lifetime.
Note: Other famous writers:
I also have a play on Hans Christian Andersen and a Webquest on Charles Dickens!
https://www.teacherspayteachers.com/Product/Hans-Christian-AndersenBiographical-play-To-Tell-the-Truth-Play-348807
https://www.teacherspayteachers.com/Product/Charles-Dickens-A-Webquest-200480
Check out the free download for a possible Interactive Notebook Activity: https://www.teacherspayteachers.com/Product/Shakespeare-FREEBIE-Possible-Interactive-Notebook-Activity-2501243
---