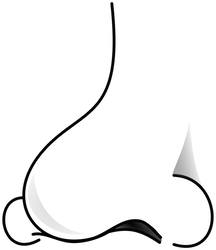 Do you NOSE it?
We all have a nose but what do you really know about the nose? Read some of these fun facts about the nose!
The native people of New Zealand, called the Maori, greet by pressing their noses together.
Lloyd's of London insured the nose of Dutch winemaker, Ilja Gort, for $8 million.
Do you get epistaxis? Most nosebleeds occur in the winter(drying from indoor heat).
Nose hairs and mucus help to filter harmful bacteria out of your nose and body.
A superstition about the nose says that if it itches, you will either get kissed by a fool, get into a fight or have visitors that day.
Like to hum? It isn't possible if your nose is plugged.
Did you know your eyes can see your nose all the time but the brain ignores it?
Did you know that a rhinotillexomania is a person that picks their nose?
The average nose is about the size of your thumb.
A circus performer in the 1700's, named Thomas Wedders, had a whopper of a nose. It measured 7 1/2 inches long.
People used to believe that if you covered your mouth and held your nose while sneezing, you could blow your eyeball out of their sockets!
Did you know the term for sneezing is sternutation? The air traveling out of your nose during a sneeze can reach 100 mph!
Scientists thought the human nose could recognize 10,000 different odors. In 2014, researchers say that number is closer to one trillion different smells.
Did you know that our noses produce about one quart of mucus a day? Most of this is swallowed.
There aren't any bones in the nose. If you break your nose, you actually break cartilage.
Did you know that your nose helps taste your foods? If you pinch your nose(or have a cold) you won't be able to taste foods very well.
Scientists say there are about 14 different styles of noses and MEN have on average, larger noses than women.
Women tend to have a better sense of smell than men.
Get a memory with a specific smell? Most smell memories occur in the first 10 years of life.
Did you know that the way you sneeze is genetic,passed from your ancestors to you?
Activities:
Draw a picture of a nose and illustrate one of the fun facts about the nose.


Write a day in the life of a nose. What do you smell? What's it like being a nose?





Sources:


Note: Illustration from Openclipart.org
---