What do you Know about Mt. Everest?
In 1923, English mountaineer George Mallory was asked,"Why do you want to climb Mt. Everest?" His response, "Because it's there." He would make three attempts at climbing the massive peak , which at that time was known as theThird Pole. On 1924, he and Andrew Irvine trekked up the mountain and never came down. On May 29th, 1953, Edmund Hillary and his Sherpa guide, Norgay Tenzing, became the first people to successfully summit Mt. Everest.
What do you know about Mt. Everest?
In Tibet, Mt. Everest is called Chomolungma, meaning "mother goddess of the universe".
In Nepal, Mt. Everest is called Sagarmatha meaning "forehead of the sky".
Mt. Everest is called the "roof of the world". It is located between Nepal and China.
About the size of 20 Empire State Buildings, Mt. Everest stands 29,028 ft. (some sources say it is now 29,035 ft.) That's about 5 1/2 miles above sea level!
Originally called Peak 15, the mountain peak was named for Sir George Everest.
Did you know that marine fossils have been found on the mountain? This shows that at one time, the mountain was below sea level!The first fossils were found by Noel Odell, in 1924.
Only the black jumping spider calls Mt. Everest home. It can be found at 22,000 feet.
At times, the winds at the peak of Mt. Everest blow at gusts of 200 miles per hour.
Mt. Everest is growing at about .25 inches per year.
Formed in 2008, the Eco Everest Expedition is trying clean up the mountain. An estimated 50 tons of trash have been left behind by climbers. As of 2014, there is a rule that you must bring down 18 pounds of trash.
Mauna Kea is actually higher than Mt. Everest, if measured from the ocean floor.
If you reach the summit, you have reached the crusing altitude of a jet airplane!
Mt. Everest is about 60 million years old!
Kenton Cool, in 2011, sent the first tweet from the summit of Mt. Everest.
Activities:
1. If you reached the summit,what would you take out of your bag to hold up in a photograph?
2. Check out this map of the base camp to summit of Mt. Everest:http://www.pbs.org/wgbh/nova/everest/resources/basecampmap.htmlWrite a diary entry about your day of climbing the mountain. What are you thinking? seeing? hearing? Etc.
3. George Mallory and Andrew IRvine were the first to attempt to climb Mt. Everest in 1924. Mallory's body was discovered, in 1999, on the North Face of Mt. Everest. Attempts, including one in 2010, to find Mallory's vestpocket Kodak camera, have yet been successful. The question...how close to the summit did he and Irvine get back in 1924? If found, will the pictures on the camera give any clues? Did Mallory and Irvine reach the summit. Write a newspaper headline and paragraph on the discovery of the camera.
4. Test your IQ on Mt. Everest:http://www.bbc.co.uk/newsround/22704272
5. Many people believe a creature roams the Himalayan Mountains. Called the Yeti or Abominable Snowman, it is said to walk on two legs. Some climbers have found unusually large footprints in the snow. Could the Yeti actually exists? What might explain the size of the footprints?(melting snow making the tracks look larger than they were).Write a story pretending to find the Yeti. What does it look like? What sounds does it make? What does it smell like?http://www.scaryforkids.com/yeti/and
http://www.telegraph.co.uk/news/newstopics/howaboutthat/8818386/10-things-you-may-not-know-about-the-Yeti.html
6. Check out my informative webquest on Mt. Everest and Nepal.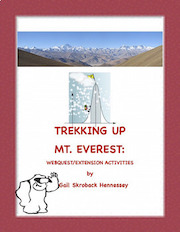 https://www.teacherspayteachers.com/Product/Mt-Everest-Trekking-up-Mt-Everest-WebquestExtension-Activities-649400


Note: Photograph from WpClipart.com
---