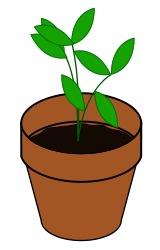 Get the dirt on DIRT!
We walk all over it, get it on the bottom of our shoes,and many like to play it in. Just what is dirt? Leonardo da Vinci once wrote,"We know more about the movement of celestial bodies than about the soil underfoot."
Dirt can be in a rainbow of colors- red, bluish gray, grayish brown,green,lemon-yellow, white, black, and of course...brown.
Did you know that an earthworm can eat 36 tons of soil in a year?
Every state has a "state soil". What's YOUR state's soil?
Here's a vocabulary word for you-geophagy, the eating of dirt.
Scientists say that there are more living organisms in a tablespoon of soil than people on the earth(that's about 7 Billion)
Many of the antibiotics we use for medicine when we are ill come from tiny organisms that live in dirt.
It take over 500 years to make just one inch of topsoil, the very fertile layer of soil
About 10,000 different types of soil can be found on the continent of Europe. About 70,000 different types of soil have been identified in the United States.
NASA uses satellites to watch our dirt from outer space. Such technology helps scientists learn about our soil.
Did you know that soil by volcanoes is extremely fertile?
---