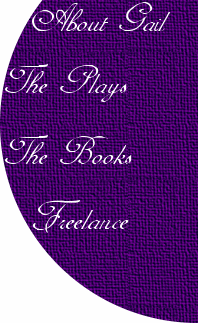 Asian American and Pacific Islander(AAPI) Heritage Month: A Webquest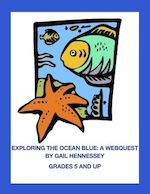 Oceans: A Webquest: World Ocean Day is 6/8.

Jacques Cousteau, A Reader's Theater Script: World Ocean Day is 6/8.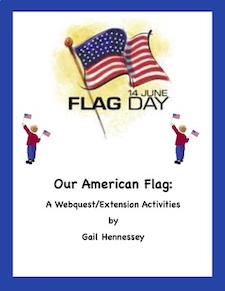 Flag Day and History of Our Flag(Flag Day is 6/8)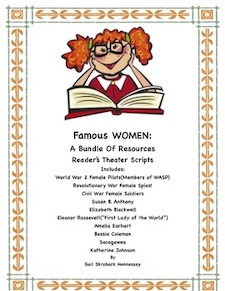 A Bundle of Reader's Theater Scripts on Famous Women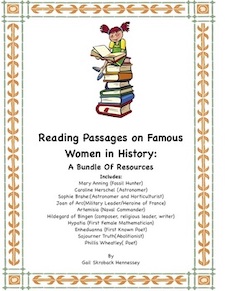 A Bundle of Readings on Famous Women

STEM BIOGRAPHIES, Reader's Theater Scripts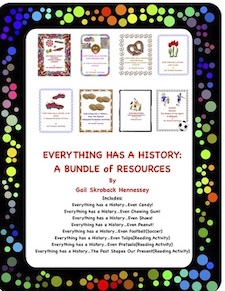 Everything has a History!)*also sold individually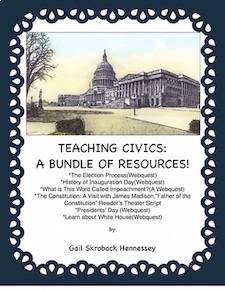 Civics:Learn about Our Government: A Bundle of Resources!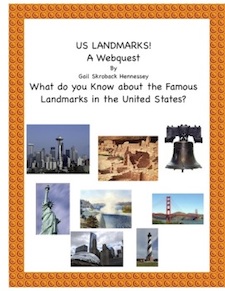 U.S. Landmarks!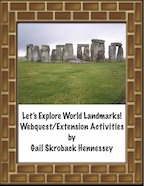 World Landmarks!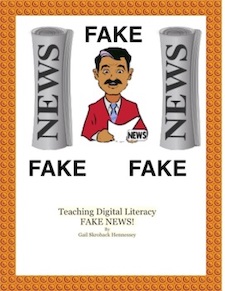 FAKE News!Can you Tell The REAL News?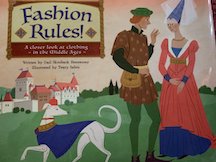 My Book- Fashion Rules!

My Book-Mrs. Paddington and the Silver Mousetraps

Visit My Boom Card Store

Purple Turtle Premium Home Schooling Program. Click for subscription information!

Click Here for catalog:
Social Studies School Service/Resources for Teachers, Parents,counselors,more!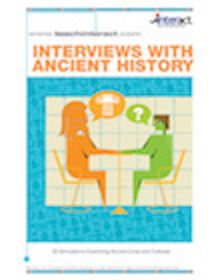 Reader's Theater Scripts(Biographies in Ancient History):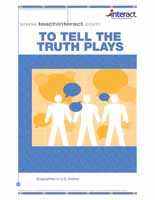 Click here to learn more:
Rader's Theater Scripts (Biographies in US History)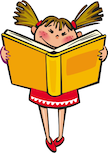 Click here:READING NOOK

Is That FAKE News?

Anti-Bullying Resources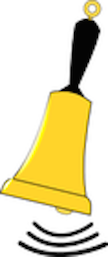 Need a quick activity?
Bell Ringers!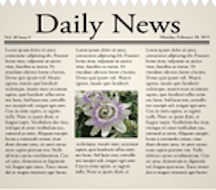 In the News!
Updated regularly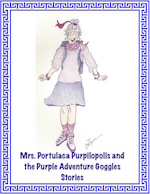 Mrs. Portulaca Purpilopilis
and the Purple Adventure Goggles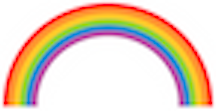 The COLOR GAMES!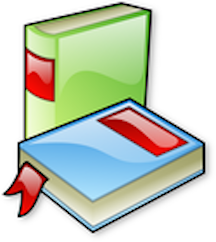 The Wooden Cookie Box Story The Wooden Cookie Box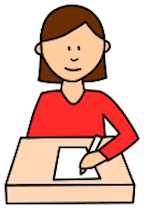 DBQ Activities!


Facts to Wow your Friends!

World Landmarks: Lots of fun things to use with your students!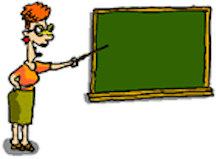 Teaching Ideas!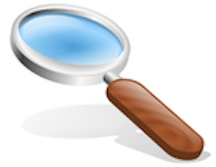 Webquests!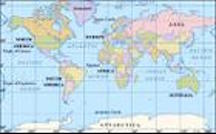 Geography Activities

Geography Ideas!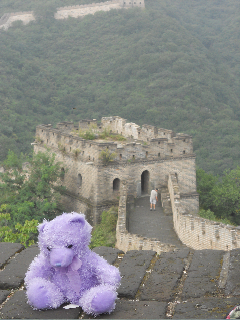 Purpleannie's Travels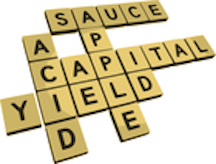 Crossword Puzzles!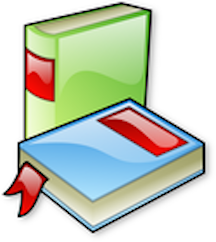 Short Reads of interest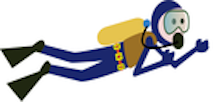 Dive into Career Choices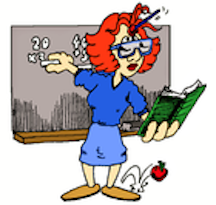 Teaching Tips A-Z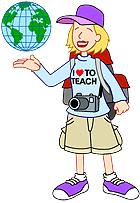 Mrs. Waffenschmidt


`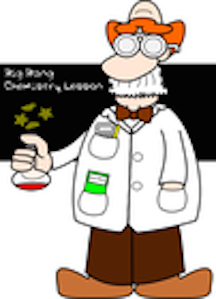 wpclipart.com

Science Fun!



`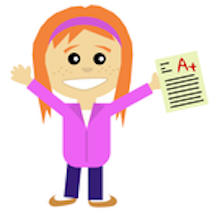 P.R.A.I.S.E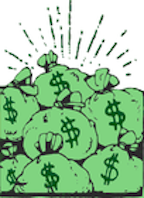 MONEY, MONEY, MONEY

Landmarks from Around the World

Calender of Resources for the Year:
Mail Gail:


Gail Hennessey
TRAVELS TO CHINA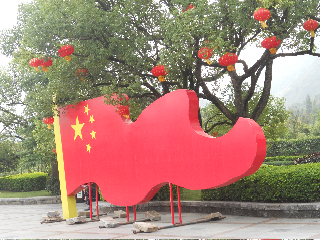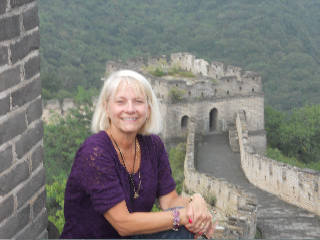 Gail by the Mutianyu section of the Great Wall.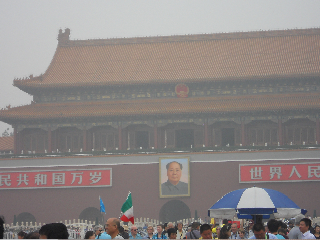 The Forbidden City. Once the home for 24 emperors of China,there is a 25 ft. high wall and 20 ft. deep moat surrounding the area. Its name comes from the fact that it was forbidden for people to enter until 1949. There are said to be 9999 rooms in the Forbidden City, the number being a "good luck" number for the Chinese.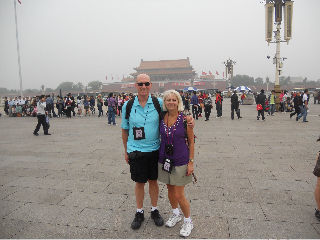 Tiananmen Square is the world's largest square.It is found in the city of Beijing.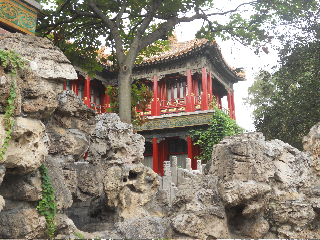 Rock Garden in the Forbidden City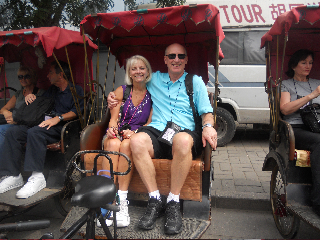 Pedicar ride in a Hutang of Beijing.From a word meaning"well",today hutong means "streets and lanes". It is said that communities of houses, passageways and courtyards developed around water well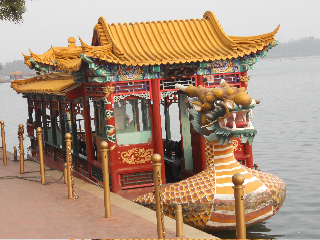 Dragon Boat in the Summer Palace. The emperors and their family spent summers here with its beautiful gardens, temples and the man-made Kunming Lake.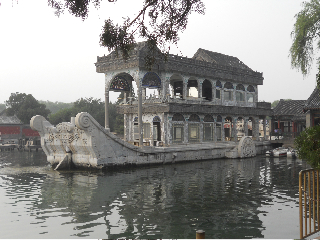 Marble Boat in the Summer Palace.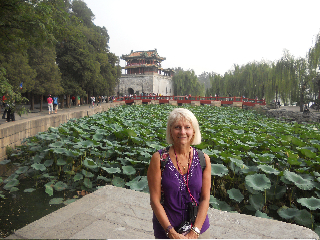 Scholar along Sacred Way, Ming Tombs, Beijing. Thirteen emperors(1369-1644) were buried in this area.
One of the 35 huge stone sculptures(lion, elepahnts, camels, mythical creatures) that line the Sacred Way.
Writing a poem with Chinese characters using a paint brush and water!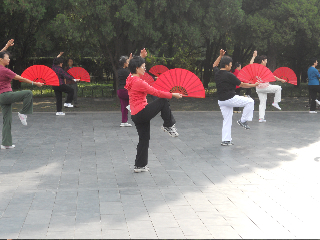 Fan dancers in the Temple of Heaven park.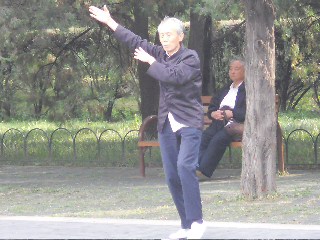 Man doing Tai Chi movements in a local park.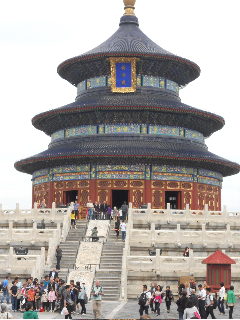 Temple of Heaven, Beijing. It was here that Chinese emperors came to pray for good weather and harvest. It was built in 1420 by the Emperor Zhuli. No nails were used to build the Hall of Prayer for Good Harvest and for many hundreds of years, common people were not allowed to enter the area.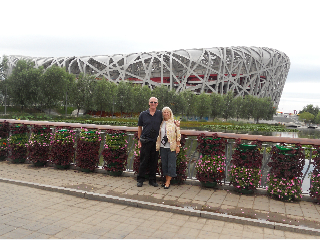 The Bird's Nest, site of the Summer Olympics of 2008.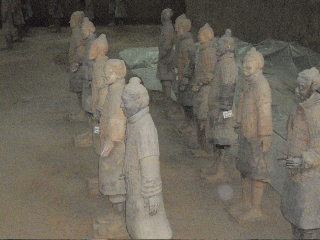 Terra Cotta Warriors, in Xian. This amazing discovery was made by farmers digging a well in 1974. More than 8000 life size warriors have been unearthed, guarding Emperor Ch'in's tomb. No two warriors are alike, some have short hair, some knotted. Some have beards, others do not. Each was given a bronze weapon such as a crossbow, sword , spear, etc. The warriors were once painted but the paint has faded since being exposed to the sunlight.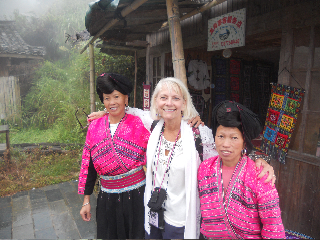 Yao women and me at the Dragon's Backbone Rice Terrace village in Long Sheng. There are 56 different ethnic groups in China with the largest group, the Han.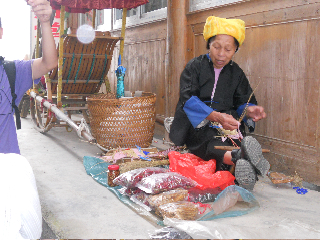 Woman making sandals from rice stalks.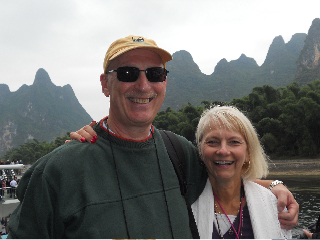 Cruising the Li River.

The Li River area is famous for its limestone karst mountains.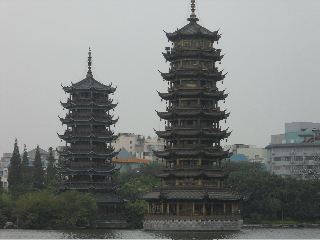 The Sun and Moon pagodas in Guilin, China.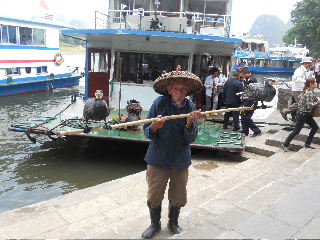 Fisherman with his two cormorants Using cormorants is a traditional fishing method in which fishermen used the trained birds to fish. Birds had a snare near the base of their throat preventing them from swallowing larger fish. The birds spit up the caught fish into the boat.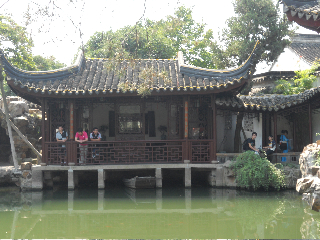 Traditional Chinese Garden in Suzhou.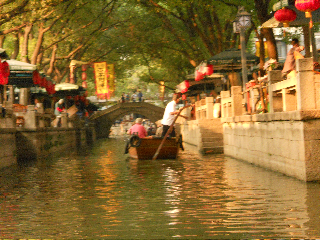 Tongli canals-the Venice of China.
Gail by bonzai trees.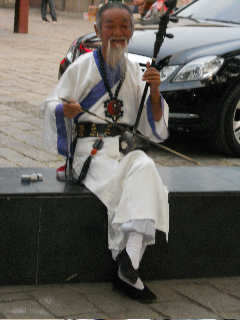 Traditional Chinese music performed by musician in Tongli.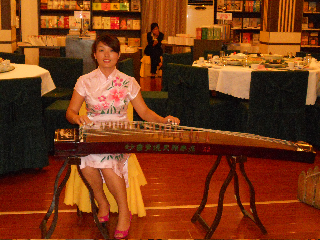 Standing by the gong of prosperity by the entrance to the Reed Flute Cave. Found near Guilin, China, the cave, with its stalactites and stalagmites, is over 180 million years old. It got its name from the reeds which grow outside the cave(used in the making of flutes). There is writing inside the cave dating back to 792 AD.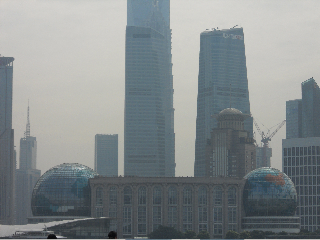 The skyline by the Bund, famous promenade in Shanghai.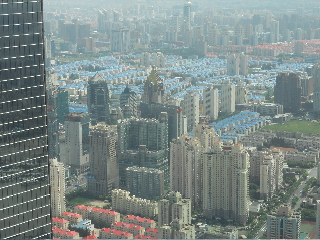 FUN FACTS about CHINA
The Chinese invented toilet paper in the 1300s. Only emperors could use it!
China has only ONE time zone, despite its size.
The Chinese invented ice cream.
Bats are a symbol of good luck to the Chinese. The crane is a symbol of long life and the phoenix is a very important bird to the Chinese.
Lady Zi Ling Sui, wife of Emperor Huang Di, is said to have discovered silk, in 3000 BC. The legend says a silk cocoon fell into her tea and the threads unraveled.
Red is used a lot in China as it is a symbol of happiness.
The world's largest dam is the Three Gorges Dam which spans the Yangtze River.
Fortune cookies were invented in the United States and not China!
The 3rd longest river in the world and the longest river in China is the Yangtze.

Check out my resources on China!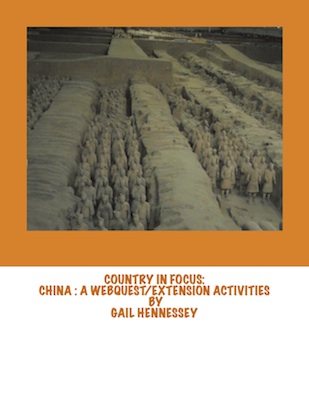 Webquest on China: Great as an introduction to the country!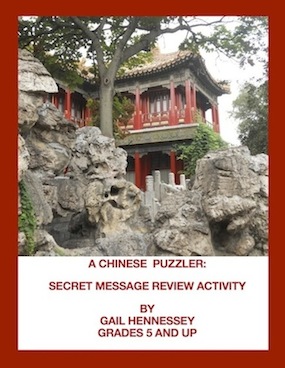 Chinese Puzzler(Vocabulary Words Spell out a Secret Message!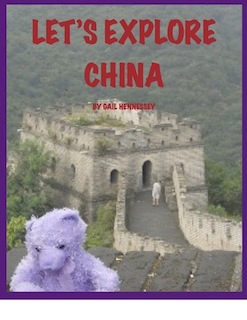 China:Country in Focus!Notes, Fun Facts, Extension activities/links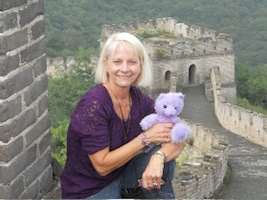 Additional Resources on China
Check out all my resources at my TpT Store:Gail's TpT Store!