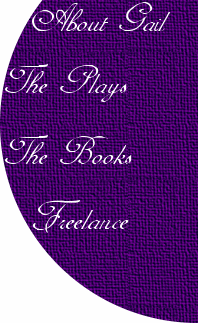 Click Here for catalog:Social Studies School Service/Resources for Teachers, Parents,counselors,more!



My Latest Published Book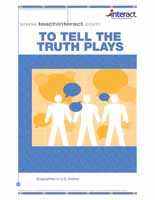 Click here to learn more: Teachinteract.com

Materials for experiential,active learners

Anti-Bullying Resources

*Clipart from NJBullying.org



In the News!
Updated regularly





Mrs. Portulaca Purpilopilis
and the Purple Adventure Goggles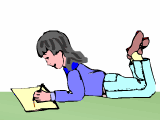 The Wooden Cookie Box Story The Wooden Cookie Box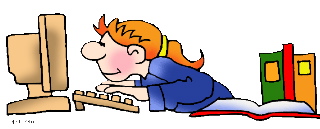 Facts to Wow your Friends!(New 3/13- DIRT!)

Teaching Ideas!

CyberHunts

Geography Activities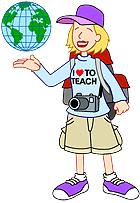 Where Am I?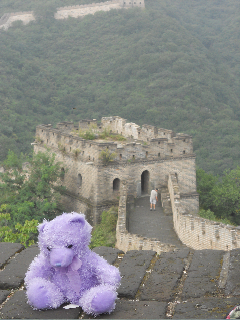 Purpleannie's Travels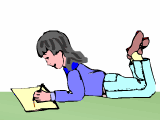 Crossword Puzzles!

Short Reads of interest

Around the World!

Dive into Career Choices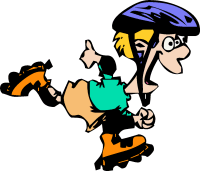 Kids Did It!

Teaching Tips A-Z

Great websites!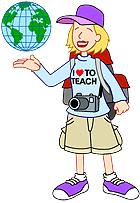 Mrs. Waffenschmidt


`

Science Fun!


`

P.R.A.I.S.E

MONEY, MONEY, MONEY
Gail's Glimmerings

Key
Mail Gail:


Gail Hennessey

WEBSITES of INTEREST:


History For Kids

Ellen Jackson -Children's Author

Tween Tribune-News Stories for Student

DogoNews: Fodder for Young Minds

Time for Kids-Around the World

BBC Website for Kids

Teacherz-Pet

TES-Largest Network of Teachers in the World

Kids Konnect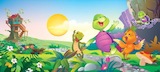 Purple Turtle
Check out: Free Clipart




Award winning site for April 2008!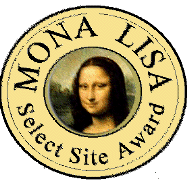 KIDS DID IT!
4/17/2013:World's Youngest Polyglot!
Are you a polyglot? That's a person that can speak multiple languages. Timothy Doner, of New York, has taught himself to speak 23 languages ...and he's only 17. Some of the languages which Timothy can speak includes Farsi, Swahili, French, Mandarin, Russian , Hebrew and Arabic. Timothy says that he reads about 8 different language newspapers each day and spends hours on languages. What sparked an interest in languages was his learning Hebrew for his bar mitzvah back in 2009. Using language books, apps on his IPhone and speaking with other people on the internet, he has increased the number of languages he can speak. Called the youngest polyglot in the world, Timothy says next on the list of languages to learn include Japanese,Polish,German, Sudanese and Malay.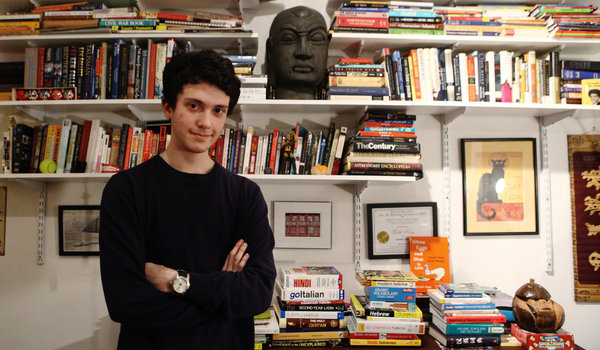 Photograph from NYtimes.com
3/30/2013:Teen,14 is Youngest to play at the Masters!
Guan Tianlang, 14, will be making history this week when he becomes the youngest golfer at the Masters. Prior to Tianland, the youngest to participated in the Masters(the one where the top golfer gets a green jacket) was Matteo Manassero, 16 of Italy. Tianlang is an eighth-grader from the country of China. He got the invitation to play by winning the Asia-Pacific Amateur Championship last fall. Tianlang began playing golf when he was just four years old, after watching Tiger Woods play in thh 2005 Masters. When he met Woods the other day, Tiangland asked him to autograph his golf cap. Woods then invited Tianlang to play a round of golf together.Excited to play in the tournament, Tianland also needs to schedule time to...do his homework which he brought along to Augusta,Georgia.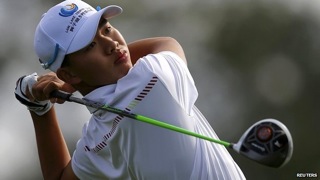 Photograph from:www.bbc.co.uk/newsround


3/31/2013: Boy Finds Rare Fossil on the Beach!

Bruno Debattista, 10, was walking along the beach of Cornwall,Great Britain, with his dad when he stopped to look at an interesting piece of shale rock. Bruno said it looked cool and since he loves collecting things, decided to keep it. Turns out Bruno found a very interesting piece of shale...it had fossilized footprints of a very rare type of horseshoe crab. Scientists say the fossil is about 320 million eras old and also has tail imprints of a pair of female and male crabs. Such fossils of footprints instead of body parts are called trace fossils. After showing his classmates his discovery, Bruno will give his rare find to the Oxford Museum of Natural History where it will go on display this May.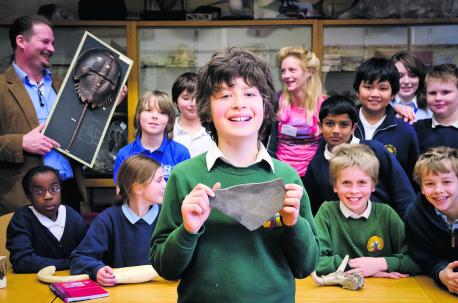 Photograph from Oxfordmail.co.uk

3/30/2013: Teen Hopes to Become Youngest to Complete a Marathon on ALL Continents!

Winter Vinecki is only 14 but has a big goal. By the end of the year(2013), she hopes to become the youngest person to run a marathon...on all seven continents! Winter lost her dad to cancer when she was just nine years old. She decided to start Team Winter, a non profit organization to create awareness to cancer, especially prostate cancer, the cancer that took the life of her dad.She's raised almost $400,000 for prostate cancer research. Winter started running at the age of five and has already become a two-time IronKids triathlon national champion.Winter's attempt to run one marathon on each continent has begun and hopes to continue to raise money to support her cause. She's raced the Eugene Marathon in Oregon(North America)and the Amazing Maasai in Kenya(Africa). Winter raced in Antarctica in March and, next up, a run in the Inca Trail Marathon(South America). The next marathons will include the Sunrise to Sunset race in Mongolia(Asia), the Wharf to Wharf race in New Zealand and finish in the Athens Classic Marathon in Greece(Europe) in the fall,where the marathon originated. If Winter is successful in completing each of these marathons before her 15th birthday, she will set a record as the youngest to ever accomplish this task. You go, Winter!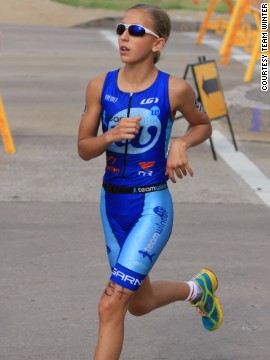 Photograph from bayoubuzz.com
3/28/2013:Teen,15, Climbs to Base Station of Mt. Everest!
Eli Reimer hiked 70 miles on an amazing two week journey to reach the base station of Mt. Everest, the highest mountain in the world. Eli, 15, has Down Syndrome and did the climb reaching 17,600 ft. to create awareness and raise funds for the disabled. Along with his dad and a team of seven, Eli reached the South Base Camp, located in the country of Nepal, making history as the first person thought to ever do the amazing climb with Down Syndrome. The teen from Bend, Oregon, raised $85,000 in his efforts for the Elisha Foundation. Super accomplishment, Eli!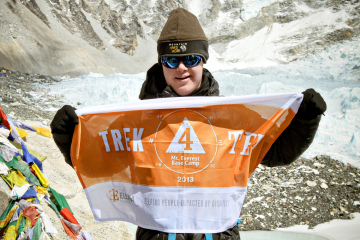 Photograph from newsfeed.time.com
3/20/2013:New Dinosaur Named For Nine Year Old Girl!
A couple of years ago a five year old girl,Daisy Morris,was walking along the beach on the Isle of Wight and found some dinosaur remains, Scientists say the remains were of a flying dinosaur and that it was a never before found species of a pterosaur that lived 115 million years ago.This week, the new species, was named Vectidraco daisymorrisae in her honor. The word vectidraco means dragon from the Isle of Wight. How many nine year olds can say that a dinosaur was named after them?Pretty cool!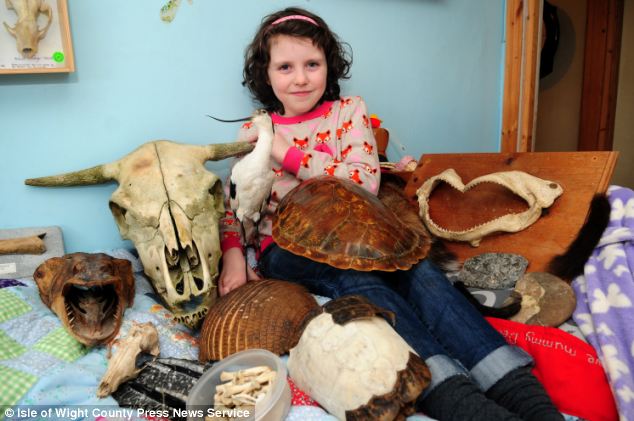 Photograph from DailyMail.co.uk


McKenna Pope, 13, of Garfield, New Jersey decided to contact Hasbro over the colors of their Easy-Bake Oven. Currently, the oven comes in purple and pink. She felt the company should make a gender-neutral color for boys. She also suggested that the toy company should have boys in the ads for their ovens as many boys like to bake.Hasbro officials recently meet with McKenna, after she got over 40,000 signatures to her petition to make the change...and, a change is being made. A black, silver and blue gender neutral color Easy-Bake ovens will soon be available. McKenna shows that you can make a change no matter your age!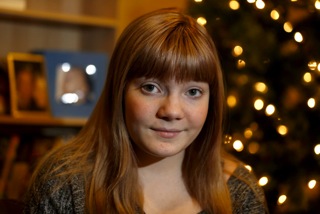 Photograph from:News.yahoo.com


12/12/12:Teen Hopes to Get a Photograph with Every Species on Earth!

Tallon Nightwalker, 16 of Fort Collins, Colorado, has been taking photographs of himself and animals since he was five years old. To date, Tallon has now snapped a shot of himself with 840 species! His goal-to grab a picture of himself with every species of creature on the planet. One of his favorite photographs is of that of himself with a bobcat. Why undertake such a project? Tallon says he hopes to make people aware of the need for conservation of our wildlife and how important the wildlife of our planet are to us. There are a couple of rules which Tallon and his father( manages a wildlife rehabilitation Center)) are requiring for this undertaking. Tallon can't have any barrier between him and the animal. The wildlife must be alive and Tallon either needs to hold the animal or be standing near someone who is holding the animal. That ensures safety for both Tallon and the animal. Tallon volunteers at a local wildlife center and hopes to make wildlife conservation his career. In 2010, the United Way awarded him the Linda Nerger Youth Volunteer Excellence award for his help with rehabilitating wildlife. Some of the creatures Tallon has collected to date include a bobcat, a rare okapi, tiger rat snake, black-billed cuckoo,Wyoming toad, spider monkey and a black bear. And, if you are wondering, Tallon has just 25,000 photographs to go....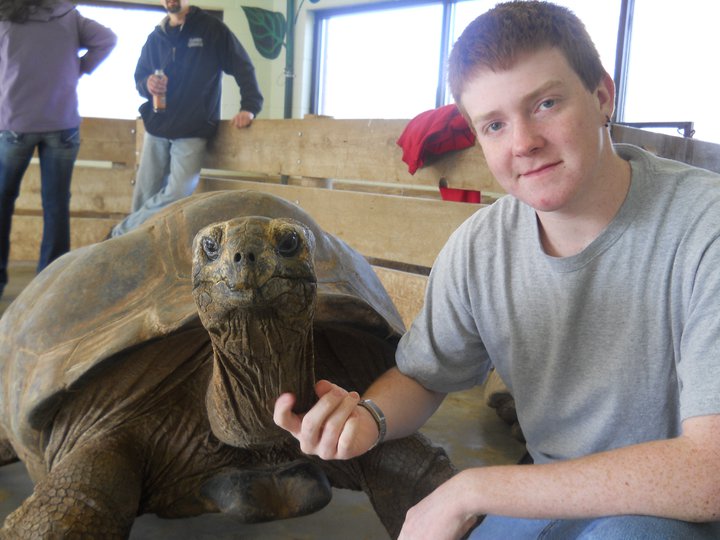 Tallon with an Aldabra Tortoise(Photograph from Tallon's Website

6th Grader's Friendship Bench!

11/12:Acacia Woodley,11, knows a little about being different and,other kids staring or whispering about her.That's because Acacia was born without a right hand and her left hand is deformed. A sixth grade student in Palm Bay,Florida, Acacia saw an idea which she wanted to bring to her elementary school...a friendship bench. She wanted to put the focus on kindness and not bullying.The idea of the colorful Adirondack bench became a reality and can now be found in the school's lobby. The purpose, it's a place to sit when you need some extra TLC. Anyone sitting there is sharing that they'd like some support or even a hug to help brighten their day. It's a place where random acts of kindness can be done. Acacia said," I believe everyone has kindness in their hearts and everyone needs a friend."The bench has words such as encourage,respect,smile, dream, and dream painted onto it. Acadia doesn't plan to stop with one friendship bench in her goal to stop bullying behaviors, she hopes that the idea spreads to all schools not only in her area but the entire country.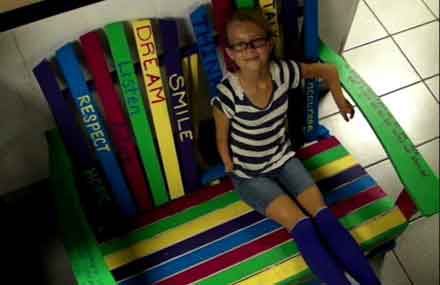 Photograph from FloridaToday.com

Seeing Pink on the Football Field!

If you watch the Jets play the Miami Dolphins this weekend(October 28), you'll see something unusual. Instead of yellow penalty flags, the flags used will be pink. And, it's all because of an 11 year old boy from New Jersey. Dante Cano, wrote a letter to the NFL commission, asking that the flags be pink to promote Breast Cancer Awareness. The commissioner, Roger Goodell, received the letter and decided it was a great idea. On Sunday, Dante will present the pink penalty flags to the referees and then, he and his family will get to watch the game. You really can make a difference...at any age!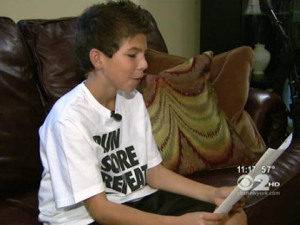 Photograph from New York.CBSlocal.com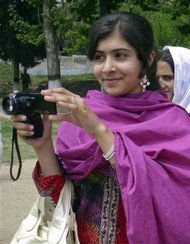 Photograph from YahooNews


10/11/12:When you say to yourself that you are too young to try and make a difference in the world....think of Malala Yousafzai. When 11 year old, Malala Yousafzai, who lived in the Swat Valley, in Pakistan, was told girls would no longer be allowed to go to school, she was very upset. She didn't feel it was right that those who had taken control of her area,called Taliban, denied education to girls. She decided to write a blog under a pen name for the BBC. She dared to criticize the Taliban telling of how her life had changed and how her community suffered by such policies. Malala actually received threats by the Taliban for her campaign that all girls should be given the opportunity to go to school and get an education! Her courage to speak out earned her Pakistan's highest civilian award. Malala was also nomination for an international children's peace award.Eventually, the Taliban were removed from the area and Malala and other girls were again allowed to attend school. Sadly, the other day, Taliban gunmen boarded her bus and searched her out. They shot the young teen Malala, now 14, in the neck and head as she left a school that she was attending. Pray for Malala Yousafzai as she fights for her life...

11 Year old Find Well Preserved Woolly Mammoth!10/05/12




Vevgeny Salinder,11, recently went for a walk and has made an amazing discovery, a well-preserved body of a 30,000 year old woolly mammoth! Found near a weather station in Taymyr, northern Russia, the adult male mammoth's body is nearly intact,with bones, fur and skin. Scientists worked for a week excavating the 6ft 6 inch mammoth from its resting place in the permafrost. Thought to be about 15 year of age, the 1100 pound mammoth also has its rib cage, mouth and tusk. It also has a hump on its back(like a camel) where it had stored fat to survive the harsh winter months.Scientists say it's the second best preserved ever found and the first mammoth to be found in Russia since 1901 The mammoth was named Jenya,(Zhenya) the nickname of the boy who found it.Scientists hope to obtain some of its DNA for possible cloning projects.Pretty cool!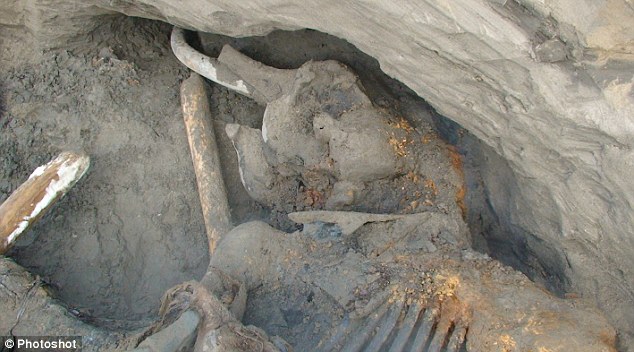 Photograph from Daily Mail


Barking App,the Idea of a 11 Year Old!9/20/12


Victoria Walker is only in sixth grade but she's designed an app that just might help stop people from texting while driving. Her idea, the barking of dogs. Victoria, 11,says she got the idea from her own three dogs. Their barking sound can get on one's nerves so why not an app that if you start texting while driving, you hear the sound of incessant barking...until you stop. Victoria took part in a Hackathon, a competition sponsored by ATT in Los Angeles, to think of ways to get people from stopping such a dangerous practice of texting and driving. Teamed with a designer named David Grau, the team won the competition with their idea for Rode Dog, winning $20,000 to assist in the idea's development. The idea is for people to join "packs". If a member is using their phone while driving, other pack members can send along the barking sounds. Plans are for the app to allow for you to select non barking animal sounds,too,(like the roar of a lion or the clucking of a chicken)and will be available later this year.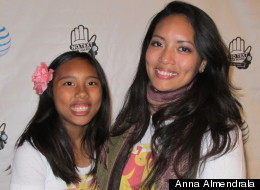 Photograph from HuffingtonPost.

It's the Right Thing to Do!9/5/12




Although it's the right thing to do, not everyone would do what Abbie Jacobson,8,of Maine recently did. A few months ago, Abbie found a little purse on the sidewalk outside her local Sam's Club. When she opened it, she was amazed to find it contained $4000, gold rings,earrings and bracelets, some Cambodian money and a debit card.Abbie knew the right thing to do was to try to get the purse back to its rightful owner,turning it into the police department. Her parents also called the bank which issued the debit card.The owner, a woman originally from the country of Cambodia,was so grateful,she invited Abbie and her family to lunch. On the first day of school, her 3rd grade teacher complimented Abbie for her honesty. The class gave her a round of applause. Abbie was asked what she would have done with such money and said she would have loved to see Justin Bieber in concert. A Bank of Maine executive heard of Abbie's honesty and knew someone who obtained tickets for Abbie and her family to attend the concert.
Photograph from NY Daily News

A WHALE of a find!

8/31/12:Charlie Naysmith,8,of Great Britian,found a strange waxy-looking stone while walking along the beach with his dad.It turned out to be whale vomit,and,would you believe the marine mammals' upchuck is very valuable?Called Ambergris,it's used in the making of perfumes, and is known as "floating gold". Charlie's wad which weighs about one pound, may be worth $65,000! Charlie, who's searched the beach for more ambergris,hopes to use the money earned to help animals.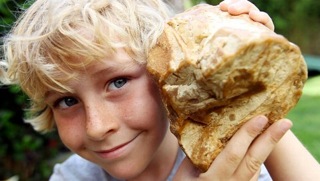 Photograph from ABC News.

Record Swim by 14 Year Old

8/18/12

Annaleise Carr, 14, has swum into the record books. On Sunday, Annaleise became the youngest to swim solo across Lake Ontario.The young Canadian swam the distance of 31.6 miles in about 27 hours. Allowed to take breaks(as long as she stayed in the water), Annaleise did the swim for charity. Hoping to raise $30,000 for a childhood cancer group, Camp Trillium,Annaleise,who has been swimming competitively since a young girl, has raised $90,000! Kudos to Annaleise!

Photograph from CNN News.

Boy Helps his Community

8/10/12

Joshua Smith,9, noticed that the parks near his home were not being well kept. When he asked his parents, Joshua was told that the city of Detroit didn't have the money to keep the park maintained and the grass mowed. This really upset Joshua and that's when he got an idea. He asked his parents if he could sell lemonade to earn money to help his city get needed funds. His parents agreed and set him up with $100 to purchase supplies. With the addition of popcorn and other drinks, Joshua and his friend, Dwayne Durant,10,raised over $3400 in just a week! The mayor of Detroit, thanked Joshua for his efforts but said that he thought the money should be used to help pay for Joshua's college education. Joshua said that just wouldn't be right because people supported his cause which was to help the city! Kudos to Joshua for his caring spirit!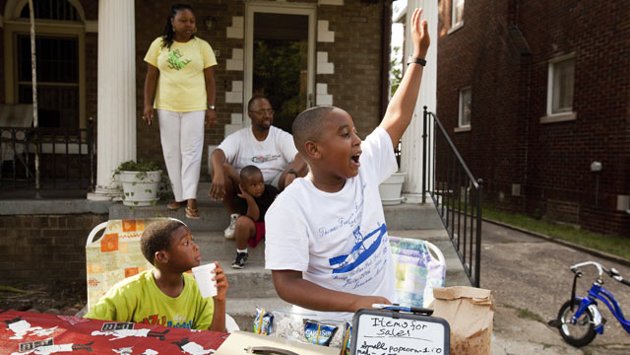 Photograph from ABCNews



School Girl Blogs Photographs of her Lunch

Martha Payne, 9, probably didn't realize how popular her blog would become. She started taking photographs of her school lunch and gave each lunch a grade. and posted them on the internet. One of her favorite lunches was mac and cheese and one of her low grades went for sausage and bean pita pockets.The Scottish school girl's blog has gotten more than five million hits. She also has raised about $105,000 for charity. Believing her blog was giving negative attention to the school, Martha was told she wouldn't be allowed to take photographs of her lunch. This caused an uproar of people emailing and tweeting that this ban was improper. Martha has again been given the OK to resume her blog. You can see her blog at this link:

Martha's Blog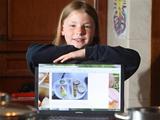 Photograph from NeverSeconds Blogspot

Teen is Youngest to Compete in the U.S.Open

The 112th U.S.Open begins this weekend and one of the 156 competitors will be Andy Zhang.Andy, 14(and six months),originally from the country of China,is thought to be the youngest to qualify to play in the famous golf tournament. Tadd Fukikawa held the youngest title when he competed in the U.S. Open at 15 years 5 months.Andy's pre tournament scores placed him as an alternate to the US Open. Then, the call came that another player,Paul Casey, was injured and Andy,who lives in Florida, would be playing in the tournament. Andy started golfing at the age of six and has competed in tournaments since he was ten years old.Good luck, Andy!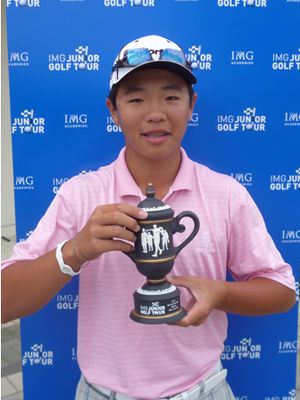 Photograph from CBS Sports.Com

2012 Scripps National Spelling Bee Champ

Snigdha Nandipati,14, of San Diego, became the 85th Scripps National Spelling Bee champ after correctly spelling "guetapens". The word is a French term for snare, trap or ambush. The middle schooler , one of 278 that took part in the three day competition in the Washington, DC area, said she studied for 6 hours a day and 10 hours a day on weekends for the competition. Her efforts paid off! Snigdha, who also enjoys playing the violin, reading and collecting coins, won a trophy, $30,000 in cash, reference materials, a $5000 scholarship and a $2500 savings bond. Congrats to Snigdha.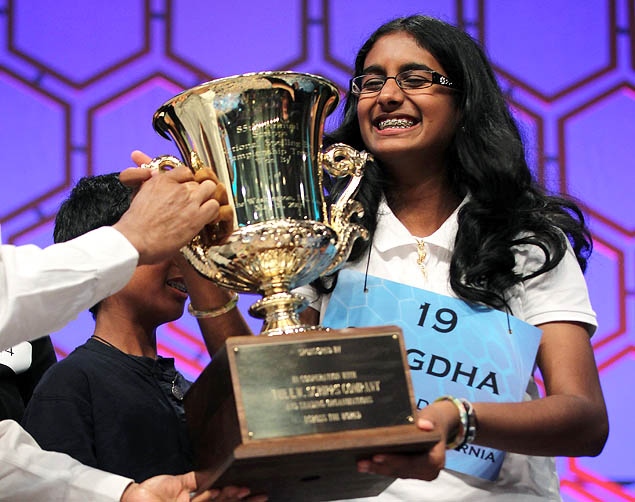 Photograph is from the Los Angeles Times

5/30/2012: Boy Wins Trip to DisneyWorld and gives it Away to Fallen Solider's Family

Snigdha Nandipati,14, of San Diego, became the 85th Scripps National Spelling Bee champ after correctly spelling "guetapens". The word is a French term for snare, trap or ambush. The middle schooler , one of 278 that took part in the three day competition in the Washington, DC area, said she studied for 6 hours a day and 10 hours a day on weekends for the competition. Her efforts paid off! Snigdha, who also enjoys playing the violin, reading and collecting coins, won a trophy, $30,000 in cash, reference materials, a $5000 scholarship and a $2500 savings bond. Congrats to Snigdha.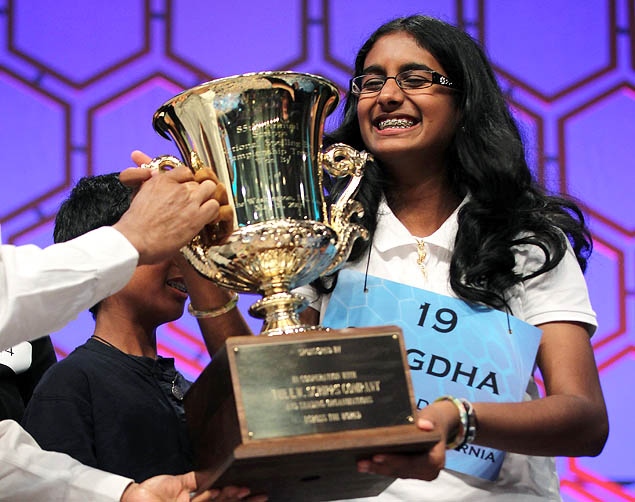 Photograph is from the Los Angeles Times

Brendan Haas, of Massachusetts,is only nine years old but he has done something wonderful helping people he doesn't even know.Brendan had heard about a man that started with a red paper clip and continued trading until he actually got a house.Brendan thought he'd like to earn a trip for a family to go to DisneyWorld.Calling his project, "A Soldier for a Soldier", Brendan started by offering to trade a toy soldier back in February. Trades continued until when he was done, Brendan has succeeded in earning airfare and a stay at DisneyWorld (and about $900) for a family.He then collected names of families who had lost a loved one in Afghanistan and picked a name out of a hat on Memorial Day. U.S. Army Lt. TImothy Steele's widow and 2 year old daughter will be going on the trip to DisneyWorld thanks to Brendan's project to help others!Well done, Brendan!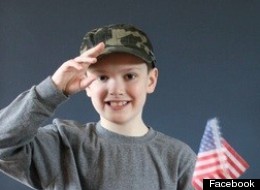 Photograph from Huffington Post

4/18/2012: Young Teen Becomes Youngest to Play Golf in European Open

Just 13 and 177 days old, Chinese teen Guan Tian-Lang is making history. He is the youngest to ever qualify to play golf in this week's European Tour. Guan, says he is very excited and couldn't be happier to be competing with 156 golfers in the tournament. Guan, a very good student at a school in Guangshou, started playing golf when he was just four years old and already has his sights on another goal... qualifying to play in the US Open this July.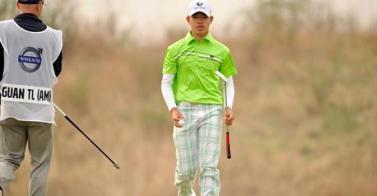 Photograph from Yahoo! Sport




4/10/12: 7th Grader's Quick Actions called Heroic

When the school bus driver had a seizure while driving about fifteen kids to school,in Milton, Washington,thirteen-year-old Jeremy Wuitschick,immediate went into action. Jumping out of his seat, he grabbed the steering wheel,safely steering the school bus to the side of the road, turning the engine off. The seventh grader is being hailed as a hero for his quick response,having listened well to emergency procedures he'd been taught at school.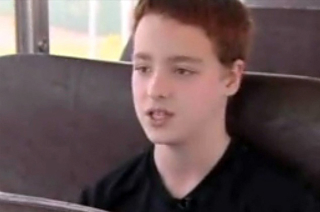 Photograph from New York Daily News



3/23/12: 12 Year Old Helps design World's Biggest Paper Airplane!


Most of us have flown a paper airplane but nothing like the Arturo's Desert Eagle. Believed to be the world's largest, the paper airplane weighed 800 pounds and was 45 ft.long. The whopper of a paper airplane was inspired by Arturo Valdenegro,12, who won a regional paper airplane contest earlier in the year.As the winner of the paper airplane contest, whose plane flew the farthest, Arturo participated with engineers who designed and built the mammoth paper airplane. The project was part of the Great Paper Airplane Project, at the Pima Air and Space Museum,Tucson, Arizona. Attached to a chain, the Arturo's Desert Eagle, made of materials similar to that used in pizza boxes, was lifted by a Sikorsky S58T helicopter. At 2703 ft, the paper airplane was release and glided about 7-20 seconds, at 98 mph until crashing in a heap in the Arizona desert.See a video of the flight of the paper airplane at this link: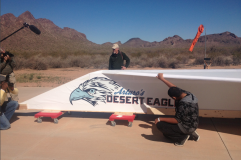 3/14/12: Youngest to Compete in Scripps National Spelling Bee!
A Virginia girl named Lori Anne Madison has qualified for the famed Scripps National Spelling Bee. At only 6 years old, Lori, is the youngest to ever qualify for the spelling tournament. She beat 21 other elementary and middle school students in her regional competition by correctly spelling the Spanish word for cowboy,"vaquero". The Scripps National Spelling Bee competition has been held since 1925. This year's event is scheudled for May 29-June 1 in Washington, DC. Lori will be one of 277 participants from the United States, U.S. territories and several other countries trying to become this year's spelling bee champion.
2/28/12: Eight Year Old Girl Invents Painless Bandage Remover!
Taking bandages off is often a painful experience which eight year old Alanna Meyers, of Florida,wanted to change. She decided she wished to invent a painless bandage remover. She experimented with different natural ingredients and oils(coconut oil, lavender, oil, sweet almond oil), trying her concoctions on herself until she came up with a way to remove a bandage, painlessly. Alanna's parents have helped he get her Pain Free Bandage Remover produced. A television show, The Doctors, showed her produce on the program and interviewed Alanna as did the Rachel Ray Show. A percent of the sales of her product,"Taking Off" goes to Arts for Children.
2/28/12:Young Boy Helps Others by collecting Pop-Top Tabs
Seven year old Miles Mann, of Woodbury,Minnesota, has been collecting pop tabs for Ronald McDonald House and has collected over 100,000 tabs in two years! The youngest philanthropist has become a youth ambassador for the program and recently spoke at their international convention in Chicago. Along with business cards, a power point presentation and flyers he passes out to those he meets on collecting tabs for Ronald McDonald House Charities, he's really working hard to educate others about helping others. His grandfather made him a large house which he wheels around asking for pop tab donations.
1/3/12:Youngest to Successfully Climb the Seven Summits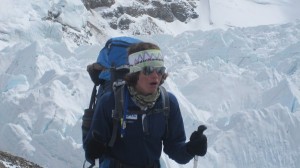 Photograph from Jordan's Website

By summiting Antarctica's Mount Vinson Massif, over New Year's Weekend, 15 year old Jordan Romero, became the youngest person to climb the Seven Summits-the highest mountains on each continent. At the age of 13, Jordan, his dad and stepmom reached the world's tallest mountain summit, Mount Everest. The previous record for the youngest to summit the Seven Summits was George Atkinson, 16, of Great Britain.He completed his ascents last May. Learn more about Jordan's climbing journey at his website:

/11/2011: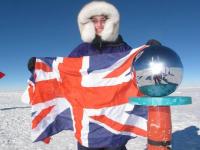 Picture from Ameliahempleman.com
Sixteen year old Amelia Hempleman-Adams,of Great Britain, went out on a ski trek and ended up in the record books. She has become the youngest to ski to the bottom of the South Pole. Along with her dad,Amelia completed the two-week, 97 mile adventure,unofficially breaking the record of Canadian Sarah Ann McNair-Landry, who at the age of 18, completed the journey, back in 2005. Along with some homework, Amelia brought along a photograph of British explorer,Ernest Shackleton,whose expedition tried to reached the bottom of the South Pole in 1907.Amelia hopes to have Guinness World Records verify her achievement in the coming weeks.
Teen's Crossword Puzzles Published in the New York Times!
8/4/2011:Do you like doing crossword puzzles? David Steinberg ,14, does and he's now creating his very own. David just had one of his crossword puzzles published in the New York Times,becoming the third youngest to ever accomplish this feat, in the history of the paper. The newspaper, famous for its crosswords, has also purchased 3 additional crossword puzzles that David has created. David says in addition to crossword puzzles, he used to enjoy playing Scrabble quite a bit but his parents say they can't play with him any longer-David always wins.The New York Times starts easy on Mondays with each day the puzzles getting a bit harder. Sunday is the hardest puzzle of the week. The paper pays $200 for each published puzzle with $1000 for their Sunday edition. David says creating a puzzler for the Sunday edition is his ultimate goal!
Youngest ever wins World Surfing Championship!
Carissa Moore, 18, became the youngest-ever world surfing champion(female or male). Moore is also the first woman surfer from Hawaii to win a woman's title in 30 years. Carissa has long had the goal of winning this championship, having been surfing since she was a little girl. In fact, the goal of becoming Number 1 was listed on her back door, hoping to one day cross this goal off her list...guess she will be doing this next week!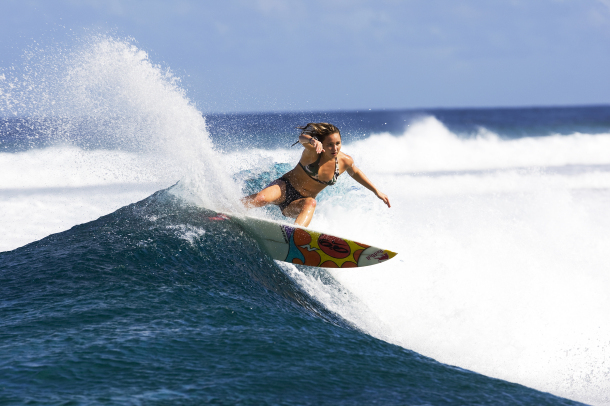 Photograph from Red Bull Website

Youngest Harlem Globetrotter Draft is 12 Years Old!

6/22/11:The Harlem Globetrotters,famous for their amazing basketball performances, have announced six players for their 2011 draft class. One is Jordan McCabe. What makes Jordan so unique, is that he is only 12 years old. The middleschooler , from the Seattle, Washington area, has amazing basketball abilities(like being able to dribble two basketballs at the same time). Of, course, Jordan can't actually join the team just yet. He has to finish school high school and college but the Globetrotters's selection states they have the right to sign him at a future date. Pretty cool!

S.P.E.L.L.I.N.G CHAMP!

6/2/11:Sukanya Roy, of Pennsylvania, is this year's Scripps National Spelling Bee champ,correctly spelling the word, "cymotrichous". And, if you don't know what this word means, it's an adjective meaning wavy hair.Sukanya, who has competed in two prior bees,finishing 12th and 20th, says that she "went through the dictionary one or twice and that she guesses some of the words really stuck. The 14 year old won more than $40,0000 in cash and prizes and a pretty cool looking trophy.Some of the other words used in the spelling bee included cheongsam, opodeldoc , capoeira and abhinaya. Any idea what these words mean?

5/26/2011:You may know that Mt. Everest is the highest mountain in the world but do you know the Nepalese national park from which most climbers begin their ascent? 13 year old Tine Valencic, of Texas, knew the tie breaking answer to win this year's National Geographic Bee. As the 2011 winner, Valencic won a $25,000 scholarship, a trip to the Galapagos Islands and a lifetime subscription to the National geographic Society(sponsor of the annual bee).

Can you answer the following questions? In which country are Soba noodles popular? The headwaters of the Amazon River are located in which country? On an isthmus southwest of the state of Campeche, is one of the world's largest wind farms. In which country is this farm located?

Two Girl Scouts Seek to Help Orangutans with Girl Scout Cookies....

5/23/2011

Two Girl Scouts, Madi Vorva and Rhiannon Tomtishen, were working on achieving the highest Girl Scout award, the Girl Scout Bronze Award, when they made an interesting discovery. The orangutan that they were working to save, were endangered, in part, to something for which Girls Scouts have become famous-their cookies!  Seems that all but one of the 17 different Girl Scout cookies, such as Peanut Butter Patties,are made with palm oil, an ingredient that is linked to rainforest destruction, home of the orangutan. The teens decided to ask that the cookies use a more environmentally friendly oil, canola. When the girls contacted Girl Scouts USA asking for the recipe to be changed, removing palm oil, they were not met with much success. Now, along with Change.org and the Rainforest Action Network, the girls are asking people to sign their petition to asking for another ingredient to replace palm oil and thus, help save the orangutans! Go to this site for more information on making Girl Scout Cookies, Rainforest safe!TakeAction And, yes..Madi and Rhiannon DID receive their Bronze Award!

Graduation Day!

Fifteen year old Ty Hobson-Powell attended his graduation ceremony this past week. Not from middle school, but from college. Ty is the youngest graduate of the University of Baltimore. Just shy of his 16th birthday, Ty, who likes playing basketball and Twittering his friends, is now planning to attend law school in the fall!

Teen Doesn't Give up on her Dream of Show Jumping

Did you ever hear the nursey rhyme,"Hey diddle diddle,the cat and the fiddle, the cow jumped over the moon. The little dog laughed to see such sport and the dish ran away with the spoon."? Well, Luna, a cow in the Bavarian town of Traunstein, Germany, isn't actually jumping over the moon, but she IS jumping. Her owner ,Regina Mayer,15, loves horse jumping but had a problem. She didn't have enough money for a horse BUT she did have lots of cows on her family farm so Rachel did the next best thing, trained her cow, whose name means "moon", for show jumping competition!Training her cow took lots of effort, beginning when Luna was just a calf. Today, Luna and Regina are two peas in a pod, riding, and jumping up to 3 ft. high hurdles.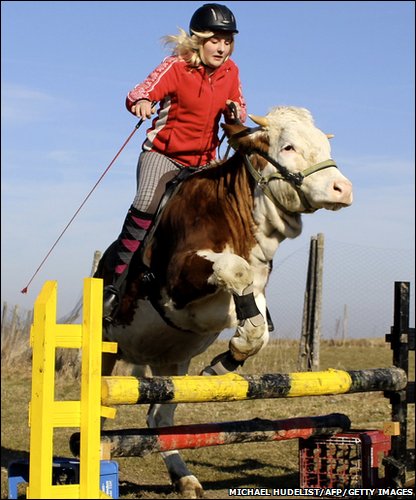 From: Metro.Co.UK



Girl,10, Discovers SuperNova-Youngest to do so!

What did you do over your Christmas vacation? Sleep in? Shop or take in a movie?Read a book? Over vacation,Kathryn Aurora Gray, 10,of Canada,discovered a supernova. And, she is the youngest to ever do so! Kathryn spotted the supernova(an exploding star) which has been named Supernova 2010lt, after reviewing images of the galaxy UGC 3378(part of the Camelopardalis constellation). Kathryn, in fifth grade, got interested in trying to find a supernova after learning of Carolyn Moore, 14,who last year was the youngest to discovered one. Kathryn decided to try and beat the record. Because of the distance of UGC3378, more than 240 million light years away from the Earth, it is estimated that the star exploded about 240 million years ago! Kathryn says she was very excited to find one.

Chess Champ!

Do you play chess? Samuel Sevians, of California is a U.S. chess master. What makes this rating so amazing is that Samuel is only 9 years old. The United States Chess Federation recently named him the youngest to ever earn the title of U.S. "Chess Master". The federation awards a player this title, "national master", to those with a rating of 2200. Samuel earned a rating of 2201. The highest title awarded in chess is "senior master", for ratings of 2400. Sam studies chess for 2 hours each day either playing with his coach or dad and also reading chess moves in books. The 4th grader, who also likes playing soccer and reading, started playing chess when he was five years old.



Girl Hopes Purple Becomes New Hampshire's State Color!

12/13/10:Does your state have a official state bird? A flower? Kristyn Demers,10, of New Hampshire, thinks her state should have a state color. And, the color she'd like to see selected-the color purple.(my personal favorite) Kristyn selected purple since New Hampshire's state bird is the purple finch and the state flower is the purple lilac. She has asked her local state representative to file a bill in the state legislature,adopting purple as the state'scolor.This winter, Kristyn will get to speak at a hearing to discuss the adoption of purple as New Hampshire's state color. And, since no other colors have been suggested to date, there isn't any competition for the title.To date, only 11 states have official state colors, so it might be an idea which will spread. What color would you pick for your state's color, and why?

Rubrick's Cube Champ!

11/10:Have you ever tried matching up the colors of a Rubrik's Cube?Feliks Zemdegs,14,of Australia, loves the Rubrik's Cube. In fact, his folks say the puzzler seems to be glued to their son's hands as he is always twisting the colorful cube.Recently, Feliks got his name in the record books,by solving the cube in 6.77 seconds. The record, set in 2008, was 7.08 seconds. On the same day, Rowe Hessler, of Massachusetts, also became the fastest American Rubik's Cube champ. His record was 6.944 seconds.

A new police dog has joined the force in Tokyo, Japan.But the dog isn't a shepherd or other large dog. Momo, is a seven year old Chihuahua.In English, the pooch's name is "Peaches", and tips the scales at a meager 6.6 pounds. The little brown and white dog passed her exam as a search and rescue dog, able to locate someone in only five minutes, after taking a whiff of the person's hat. It is very rare for a tiny Chihuahua to become a police dog. She'll go on duty in January.

UPDATE: Jackie Evancho, 10, Wows America's Got Talent Viewers with her Amazing Voice

Jackie Evancho got an amazing opportunity to show the world her singing abilities on America's Got Talent, after being selected to perform by YouTube viewers. The ten year old opera singer wowed the judges and audience with her beautiful voice as she sang Giacomo Puccini's aria "O Mio Babbino Caro".Selected to join other semifinalists, Jackie may be singing all the way to the bank. If she wins America's Got Talent's competition, she will win $1 million dollars and a contract to sing in Las Vegas! Jackie came in 2nd place in this season's America's Got Talent!!!!See and hear Jackie perform at her website:

Teen performs first ever backflip in a wheelchair!

July/10: Aaron Fotheringham, 18, made the record books recently. He is the first person to successfully perform a backflip in a wheelchair!The Las Vegas, Nevada, teen, was born with spina bifida, which has confined him to a wheelchair for most of his life. He's actually developed a new extreme sport in which other wheelchair-bound athletes compete and use their wheelchairs like a bike or skateboard to do tricks. His nickname...Wheelz. Read more:

Spiderman makes this teen Climb the Walls!




July/10: Hibiki Kono, 13,of Cambridge, Great Britain, has loved Spiderman since he was a little boy. He did more than fantasize about his desire to be like his super hero. He recently invented a device, using two vacuum cleaners to enable him to climb walls, too! It took five months of planning to develop his climbing gadget. He's climbed up his school's wall but his mom won't allow him to climb too high. And, his mom also says Hibiki can't climb his bedroom walls for fear he'll pull down the ceiling!Read more:

Dogo News for Kids


Olivia's Help the Gulf Wildlife Project

Seeing the catastrophe in the Gulf of Mexico and birds covered in oil, moved Olivia Bouler,11, to tears. It also made her want to do something to help. Olivia, of New York, contacted the Audubon Society, and asked if perhaps, she could sell her bird drawing and watercolor paintings to raise money to help. She heard back from the Audubon Society asking to buy one of her drawings to hang in their office in New York City! And, Olivia is doing more. For anyone that makes a donation to either The Audubon Society, The Sierra Club, The Weeks Bay Foundation, The Mobile Bay Estuary Program or The National Wildlife Fund, Olivia will send along one of her drawings. AOL heard about Olivia's efforts and gave a donation of $25,000 and placed her work on their website:Olivia's Help the Gulf Wildlife Project. More than 500 people have now made donations and already Olivia has helped to raise more than$70,000 thus far! No surprise, Olivia plans to continue her love for birds. She wants to become an ornithologist, someone that studies birds, when she's older. See photographs of Olivia's work and learn more:

Audobon Society

National Spelling Bee Winner 2010!

Do you know what the word "stronmuhr" means? Can you spell it? Anamika Veeramani,14, of Ohio knew the spelling for the word which is a medical instrument for measuring the flow of blood, and won the 2010 Scripps National Spelling Bee. As top spelling champ, Anamika also won $40,000 in cash and prizes. She said she'd like to use some of the money to maybe purchase an IPad. Anamika, who likes dancing and playing golf, hopes to go to Harvard and would like to become a cardiovascular surgeon.




National Geography Bee Winner!

Question:"The largest city in northern Haiti was renamed following Haiti's independence from France. What is the present-day name of this city?" Fortunately, Aadith Moorthy,13, of Florida, knew the answer and became the National Geographic Bee winner for 2010. Moorthy's efforts won him a lifetime membership to the National Geographic Society, a $25,000 college scholarship and a trip to the Galapagos Islands! Moorthy, who studied 20 facts a day for four months, said,"I wanted to win-that was my goal." The National Geographic Bee started in 1989 to foster geography knowledge among young people in the United States.

Do you know some of these answers which were asked of the 54 state level winners (50 U.S. states, Washington, D.C., the U.S. Atlantic and Pacific territories, and Department of Defense Dependents Schools) at this year's National Geography Bee?

Near which Central American country south of Nicaragua would you find the Cocos Islands?
The fujara, a tall wooden flute, is an instrument that originated in the mountainous regions west of Kosice in which central European country?
Name the river that flows near these cities-Ingolstadt and Linz.




Answers:
Cap-Haitie, Costa Rica, Slovakia, Danube





Fired up to Dance!

Some kids learn to ski, others learn karate, Preston Weber,11, who loves skateboarding, found another interest. He learned to do the knife dance of Samoan warriors! Watching YouTube videos, Preston, got fired up and taught himself the art of the fireknife. The dance involves twirling a very sharp knife extremely fast...and, it's lit on fire at both ends! After practicing for hours each day for about a year, Preston's fire-knife dancing paid off. He just won the 6-11 Junior Division championship at the 18th annual World Fire-knife Championships held this past week in Hawaii. Preston got interested in the dance after visiting a Polynesian show at a restaurant in his town, thought it would be fun to do and set out learning to do the traditional dance.

Teen becomes youngest to sail solo around the world

Today, May 15,2010, Jessica Watson,16, of Australia, sailed her pink yacht into Sydney Harbour to the cheers of thousands of spectators. She just completed a round-the world journey, the youngest to circle the globe-nonstop, unassisted and solo! Jessica's record setting adventure took her seven months to complete. Facing loneliness, homesickness,huge storms and 40 ft. waves(but also unbelievable sunrises, seeing a shooting star,and, a blue whale), the teen walked off the yacht, called Ella's Pink Lady, onto a pink carpet placed in her honor at the pier. It was the first time she'd walked on land in 210 days, after leaving Buderim, Queensland, on October 18, 2009. Watson's journey took her northeast through the South Pacific,across the equator(where she dumped water on her head to celebrate), south to Cape Horn( tip of South America), across the Atlantic Ocean to South Africa, through the Indian Ocean and around southern Australia. Although Jessica is the youngest to accomplish such an sailing,it will not go into the record books as the World Speed Sailing Record Council has discontinued its "youngest"category. Of her efforts, Jessica told spectators."People don't think you're capable of these things-they don't realize what young people, what 16-year-olds and girls are capable of. It's amazing when you take away those expectations what you can do." The Prime Minister of Australia has hailed Jessica,"Australia's newest hero". As for the title, Jessica was quoted as saying,"I don't consider myself a hero. I'm an ordinary girl who believed in her dream."

A DYNAMITE KID!

4/11/10: Casey Rogers caused quite a mess in downtown Dallas,this weekend. The 11 year old got to blow up the Texas Stadium, the old home of the Cowboys. As part of an essay contest, Rogers got the honors to push the detonation button causing the implosion of the old stadium. It took less than a minute for the stadium to drop to a rubble of steel and concrete. Casey said of the experience that it felt awesome and that he was excited and nervous,too. He said that platform he was standing on shook as the implosion occured.The contest was sponsored by Kraft Macaroni and Cheese who is marketing a new project Macaroni and Cheese Dinner Cheddar Explosion. Rogers won the contest for his caring efforts to help others. Casey started Casey's Heart, four years ago to collect clothing,toiletries and food for the homeless in downtown Dallas, TX. Casey, who is adopted, said he knows what it's like to be homeless and asked his parents if he could help the homeless people like his parents helped him.



TEEN HOPES TO BECOME THE YOUNGEST TO SUMMIT MT. EVEREST:

Update:Jordan Romero has become the youngest to summit Mt. Everest. The 13 year old reached the summit of 29,028 ft. on Saturday, May 22nd. He used a satellite telephone to call his mom saying,"I'm calling you from the top of the world". The eighth grader breaks Temba Tsheri's(of Nepal), record who held the youngest to successful summit Mt. Everest at the age of 16. Jordan only has one of the highest peaks, on all seven continents, left to climb. Come December, Jordan sets out to summit Vinson Massif, in Antarctica. Check out his website:

http://www.jordanromero.com/


Teen Does a Wheelie Amazing Stunt

Do you do wheelies on your bike? So,does Aaron Stannage, 14, of Great Britain. His recent wheelie lasted for more than eight miles and may have set a Guiness World Record! For about an hour,on January 17th, the teen circled round and round and round around a local indoor track. During his 94 laps, Aaron says he listened to some of his favorite tunes, Prodigy and Linkin Park, to pass the time. He said that what kept him going was the support of his family and friends. Having trained for months, Aaron,part of a family of stunt performers, hopes that his has just wheeled himself into the record books.

Young Boy Bikes to Help Victims of Haiti Earthquake

Don't tell Charlie Simpson, 7, of Great Britain, he's too young to made a difference to help others. He heard about the earthquake in Haiti and wanted to do something to help. He said he'd ride his bike around his local park in London, Great Britain and take donations. He hoped to raise about 500 pounds($800) for his 5 mile bike ride. Instead, Charlie's efforts have raised more than 200,000 pounds($320,000 dollars)

House Designer is 12 Years Old

The designer of two houses being constructed in Great Britain will have to have her mom drive her to the work site. That's because she is only 12 years old. Jennifer Brook, of Great Britain, entered a contest two years ago to design an eco-friendly house. Her ideas included lots of solar panels and light switches on the floor which could be activated by people walking over them. Jennifer's ideas will be used in the plans for two houses, called carbon zero homes, to be build by the summer of 2011. The houses will be used of 70 percent recycled materials. Jennifer said: "I think it's really fantastic that a house is actually going to be built that uses some of the ideas from my design. I can't wait to visit it with some of my friends once it's been finished."

And, the two green-eco friendly houses, will be called "Jennifer's Houses"

Teen Discovers a Super Nova!

Caroline Moore, 14, from New York, has achieved something no one else her age has ever done. She discovered a supernova and a very rare one, too!A supernova is a dying star which explodes suddenly giving off amazing brightness in the process. Found last year, Caroline's supernova, named SN 2008ha, make be the weakest one ever seen. The supernova is 1000 times more powerful than a nova but just as many times less powerful than a supernova. Astronomers say Caroline's supernova still carried a powerful explosion-25 million times brighter than our sun! Her discovery was found about 70 million light years from earth, so it was very faint to see.


It may surprise you to learn that Caroline didn't use a telescope to find the supernova. It would be far too difficult for a regular telescope to successfully see one so far away. Joining the Supernova Search team, she received images taken with more powerful equipment at the observatory. And, lots of them, since the amateur group snaps thousands of images every night. For eight months, Caroline searched sets of 93 images taken three months apart. She studied the photographs to see whether there was a change between the two photographs in a particular area of the sky. She was looking at images taken of the UGC12682 galaxy found in the constellation Pegasus,the winged horse. She studied the images for three-ten hours a week. Each set of images took about 30-45 minutes to review. Then, in November, Caroline saw something. It was a faint speck of light that wasn't there in the earlier photograph."I didn't want to get my hopes up. Should I sent it to the search team or not?I decided I would."


Days went by and then one night the telephone rang. Caroline had already gone to bed. Her dad took the message that Caroline had indeed spotted a supernova. "We got confirmation and boy it's a strange one." Caroline said he dad woke her up around 11:30 PM and gave her the telephone. As she heard the news,a big grin took shape on her face and she started laughing.
To those who think they'd like to become amateur astronomers, Caroline has some advice."Go to your local observatory, join an astronomy club. Find astronomy sites on the internet or ask your science teacher for help. Get a telescope and go out, especially on a cold winter evening, and...

look

up!"
---