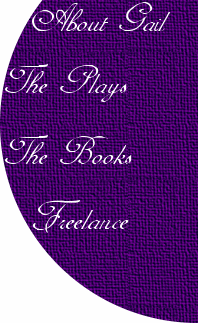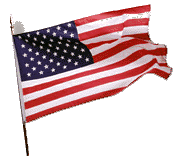 Remember Our Soldiers

Click Here for catalog:Social Studies School Service/Resources for Teachers, Parents,counselors,more!


EbooksClick here for EBooks by Social Studies School Service!




My Latest Published Book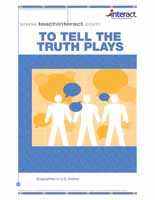 Click here to learn more: Teachinteract.com

Materials for experiential,active learners

Anti-Bullying Resources

*Clipart from NJBullying.org




Need a quick activity?

NEW! Bell Ringers!


In the News!
Updated regularly





Mrs. Portulaca Purpilopilis
and the Purple Adventure Goggles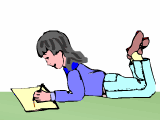 The Wooden Cookie Box Story The Wooden Cookie Box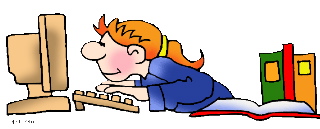 Facts to Wow your Friends!(New: Do You NOSE It?)

Teaching Ideas!

Webquests!

Geography Activities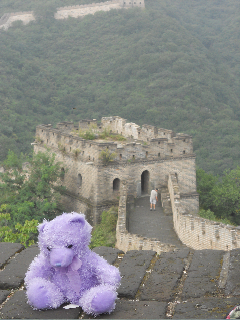 Purpleannie's Travels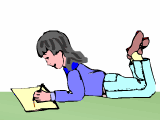 Crossword Puzzles!

Short Reads of interest

Dive into Career Choices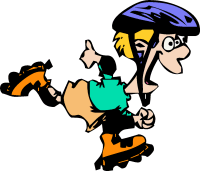 Kids Did It!

Teaching Tips A-Z

Great websites!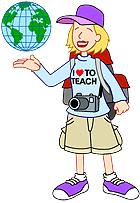 Mrs. Waffenschmidt


`

Science Fun!


`

P.R.A.I.S.E

MONEY, MONEY, MONEY
Gail's Glimmerings
Mail Gail:


Gail Hennessey

WEBSITES of INTEREST:


History For Kids

Ellen Jackson -Children's Author

Tween Tribune-News Stories for Student

DogoNews: Fodder for Young Minds

Time for Kids-Around the World

BBC Website for Kids

Teacherz-Pet

Kids Konnect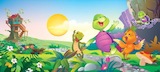 Purple Turtle EBOOKS!
Check out: Free Clipart




Award winning site for April 2008!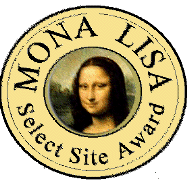 Free JavaScripts provided
by The JavaScript Source
Check out this day in History: Click here: http://www.nytimes.com/learning/general/onthisday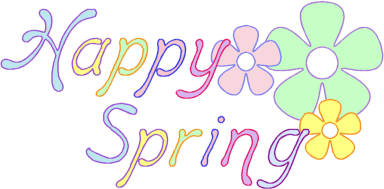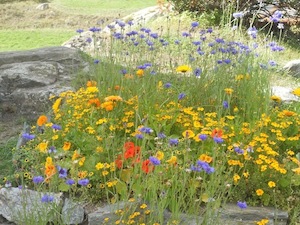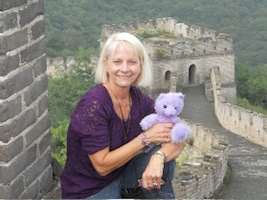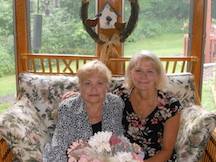 Always in my heart, Mom!
Cecile Skroback, August 31,1927-March 6,2014
Welcome to My Website for Educators!
Teach PEACE and TOLERANCE
Try doing an act of kindness for someone, today!

"Remember no one can make you feel inferior without your consent."
Eleanor Roosevelt



Tulips are sprouting. Did you know that tulips were once used as money? Learn about tulips! Click here:Tulips
PLEASE TAKE A MOMENT AND SIGN MY GUESTMAP. I'D LOVE TO SEE WHERE MY VISITORS CALL HOME! Click on the GLOBE ICON on the left to open the map.
Check out my TPT Store:TeachersPayTeachers-See my materials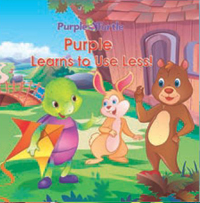 Check out Purple Turtle EBOOKS.(Grades 1-3). Purple Turtle and his friends, including a stuttering rabbit named Zing, Biggy Bear, Squirty the Squirrel and others can help introduce conservation, friendship,honesty,anti-bullying and other concepts to young children. Only $1.99 each. Purple Turtle Stories

IN THE NEWS TODAY:4/22/2014:
Hector Montoya,9, of Texas, saved up money all year for a new Play Station. Then, he heard the news about a family that died in a fire and how they didn't have a smoke detector. That changed things for Hector who said that saving a life was more important.He decided to donate his $300 stash of money to give to those who needed a smoke detector. Working with his local fire department, Hector's money enabled 100 families to have a smoke detector. And, his good deed didn't go unnoticed. Two teens read about what young Hector had done so THEY donated a Play Station to Hector!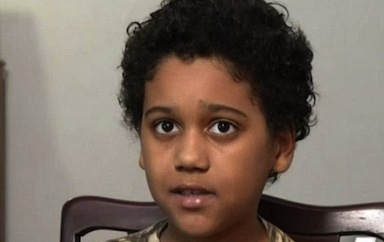 Photograph from metro.co.uk

Phillip Stoll, 9, Michigan,was playing in a creek last year when he spotted an unusual rock. He took it home. Turns out Phillip found a fossilized tooth of a mastodon. About the size of a rabbit, Phillip and his mom thought it looked like a giant tooth so they began investigating. When a photograph of a mastodon tooth was found on the internet, they asked a scientist to take a look. It was recently confirmed that Phillip's discovery is indeed a tooth of a mastodon, which probably roamed the area about 10,000 years ago. As for the rest of the mastodon, it may be buried in the mud of the creek where Phillip found one of its teeth.Photograph from CNN.Com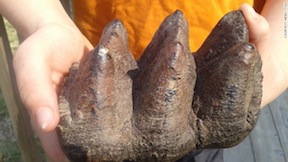 Scientists in Argentina are aware of the large quantity of gas ,especially methane, which cows emit each day. It is estimated that when a cow passes gas, the methane expelled into the air each day is enough to power a car for 24 hours! So...the National Institute of Agricultural Technology has come up with a most unusual idea. They have developed plastic backpacks for cows. The backpacks are attached to the back of the cow with a tube placed into the digestive tract of the cow. Each time, a cow releases gas, it is collected into the backpack. A cow burps or passes gas adding to about 80 gallons(AMAZING!) of methane a day. When the backpack is filled, a bike pump is used to compress the gas and then it is placed into containers. Cattle are the primary source of methane, a harmful greenhouse gas. This idea will not only help the environment but might be an energy producer,too!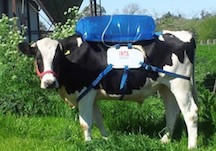 Photograph from: http://www.isciencetimes.com
Like many people, Richard Platz,placed a message he wrote on a postcard into bottle and toss it into the ocean. What makes his message in a bottle of interest,it was found...100 years after it splashed into the water! Platz dropped his bottle into the water on May 17th, 1913, into the Baltic Sea while out hiking the areas of Latvia, Lithuania and Estonia. The bottle, found by a fisherman,was given to Platz's granddaughter, Angela Erdmann, who still lives in Berlin, Germany, home of Richard Platz. Guinness Book of World Records say it is the oldest "message in a bottle" ever found. Erdmann was very happy to receive the bottle, which was given to the International Maritime Museum for display.However,the granddaughter of Platz says that people really shouldn't pollute the oceans.Good advice, Angela...just imagine if we all threw bottles into the ocean!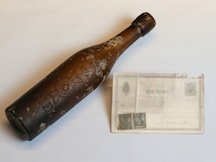 Photograph by npr.org
Blossoms on a Cherry Blossom tree are making scientists shake their heads in wonder. It normally takes about ten years for the first buds to bloom on a young cherry blossom tree. The seeds used for this tree had an unusual journey. They were part of 265 pits sent to the International Space Lab in November 2008. The pits returned to earth last July. The Cherry Blossom seeds circled the earth 4100 times while in space. The seeds were then planted and the "cosmic tree" has already grown to about 13 ft. and has flowers. Even more interesting, is the particular pit used was from a 1250 year old tree whose other seeds have never sprouted. Also, the blossoms only have five petals instead of the thirty petals found on the original tree from where the seed pit was taken.Scientists think it might be that cosmic rays in space may have effected the seeds's rapid growth spurt.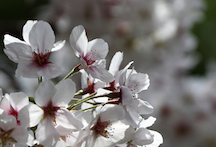 Photograph from news.discovery.com Did you know the beautiful cherry blossom trees that bloom around Washington,DC, each spring were a gift to the United States from the people of Japan?
There is a bill before the California legislature to ban the use of killer whales at SeaWorld in San Diego. The bill would also ban the breeding of killer whales, also known as Orcas.If the ban becomes law,it will be the first of its kind in the United States. Many school children in the state have been involved in the efforts, helping to collect 1.2 million signatures in support of the bill, called AB2140, the Orca Welfare and Safety Act. The killer whales are a very popular attraction at SeaWorld but many feel these very large mammals should not be kept in captivity.Others feel that important research is learned by studying and breeding the whales.At the current time, SeaWorld Park in San Diego has Orcas, six born at the park and four which were caught in the ocean.The California legislature this week decided to put on hold the decision to vote on the bill saying it needed more time to study the bill. Currently there are about 14 countries that have such bans on captive mammals such as Orcas, dolphins and other wild animals. These countries include Switzerland, Croatia and Chile. The country of Greece not only bans dolphins but all animals from entertainment activities including circuses. Learn more about Orcas: http://kids.nationalgeographic.com/kids/animals/creaturefeature/orca/ What do you think?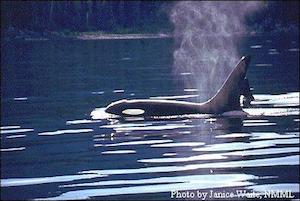 Photograph from nmfs.noaa.gov
Fun Facts about Orcas
Largest of the dolphin family
Can weigh 7-10 tons and be 26 ft. long.(largest was about 30ft)
Travel in pods (large groups)led by the female.
Scare their prey by slapping the water with their fluke.
Extremely intelligent
Like the bat, the orca uses echolocation to help it search for food.
Ocras has the second largest brain of all marine mammals(only the sperm whale's brain is larger)

Archives of IN THE NEWS: Click here: IN THE NEWS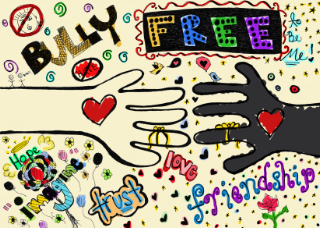 LOOK!
I remember the saying "Sticks and stones may break your bones but names can never hurt you". Personally, I never thought this to be true. Words are very powerful and negative words can hurt-a lot! Each day, thousands of young people experience some sort of bullying, either in words and/or actions. These two sites have great resources which might be of help to classroom teachers, parents and young people:
Stop Bullying!

Please check out the Anti-Bullying information on the Icon on the left margin
To any young people visiting my website. Please,if you are being bullied, seek help...SPEAK TO AN ADULT today!And, if you SEE something that looks like bullying-SAY something to an adult!

"The school is the last expenditure upon which America should be willing to compromise."FDR
"If a man empties his purse into his head, no man can take it away from him. An investment in knowledge always pays the best interest."(Ben Franklin)
"You must be the change you want to see in the world."(Mahatma Gandhi)
"School is a building that has four walls-with tomorrow inside."(Lon Watters)
"We know the future will outlast all of us, but I believe that all of us will live on in the future we make."(Senator Ted Kennedy)
"The purpose of life is a life of purpose." (Robert Byrne)
<""The purpose of life is to amount to something and have it make some difference that you lived at all."(Dear Abby)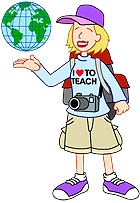 Special thanks to EducationWorld for letting me use this image of my "alter ego" as Mrs. "Waffenschmidt!

About Gail:

I have retired from teaching after 33 1/2 years in the classroom. Of that time, I taught Grade 6 Social Studies teacher for 31 1/2 years.I earned my BA in early secondary education with a concentration in social studies from SUNY Oneonta, New York, and my MST in social studies education from Binghamton University in New York. In 1988, I was awarded the Outstanding Elementary Social Studies Classroom Teacher of the Year Award from the New York State Council for the Social Studies. Additionally, in 1988, I was also awarded the Outstanding Elementary Social Studies Teacher of the Year Award by the National Council for the Social Studies.

My work has appeared in most children's publications including:
Appleseeds,Scholastic's Super Science,Scholastic's Science World, Highlights for Children, National Geographic World, Ranger Rick, Cobblestone, Faces, Muse Magazine, Contact Kids, US Kids, Action Magazine(Scholastic), Girls' Life, Boys' Life, American Girl, Instructor, Creative Classroom, Middle Years, Time for Kids, Scholastic News, Scholastic News Zone, Time for Kids , Ask Magazine, Dig, Calliope, Cobblestone, FACES, Studies Weekly, Glo Adventurer, and more.




---