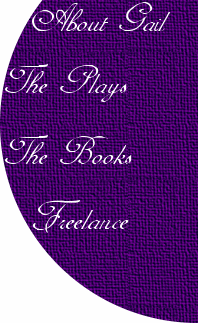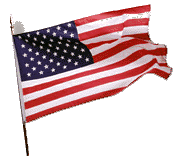 Remember Our Soldiers

Click Here for catalog:
Social Studies School Service/Resources for Teachers, Parents,counselors,more!

EbooksClick here for EBooks by Social Studies School Service!




My Latest Published Book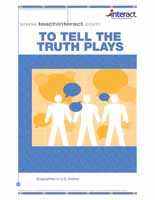 Click here to learn more:
Teachinteract.com

Materials for experiential,active learners

Inspire your kids to learn about the world:
Little Passports World Edition

Anti-Bullying Resources

*Clipart from NJBullying.org




Need a quick activity?

NEW! Bell Ringers!


In the News!
Updated regularly





Mrs. Portulaca Purpilopilis
and the Purple Adventure Goggles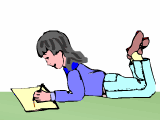 The Wooden Cookie Box Story The Wooden Cookie Box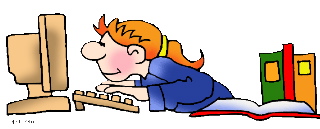 Facts to Wow your Friends!

Teaching Ideas!

Webquests!

Geography Activities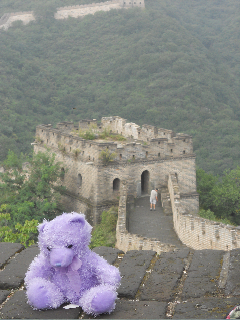 Purpleannie's Travels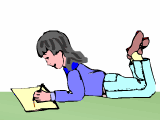 Crossword Puzzles!

Short Reads of interest

Dive into Career Choices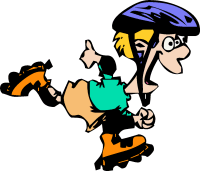 Kids Did It!

Teaching Tips A-Z

Great websites!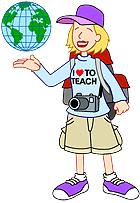 Mrs. Waffenschmidt


`

Science Fun!


`

P.R.A.I.S.E

MONEY, MONEY, MONEY
Gail's Glimmerings
Mail Gail:


Gail Hennessey

WEBSITES of INTEREST:


History For Kids

Ellen Jackson -Children's Author

Tween Tribune-News Stories for Student

DogoNews: Fodder for Young Minds

Time for Kids-Around the World

BBC Website for Kids

Teacherz-Pet

Kids Konnect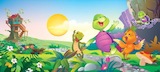 Purple Turtle EBOOKS!
Check out: Free Clipart




Award winning site for April 2008!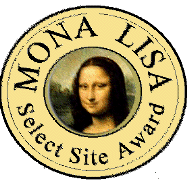 Free JavaScripts provided
by The JavaScript Source
Check out this day in History: Click here: http://www.nytimes.com/learning/general/onthisday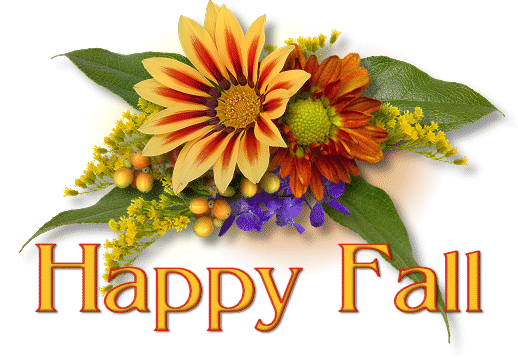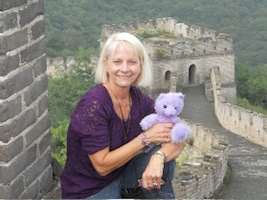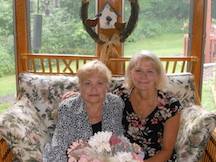 Always in my heart, Mom!
Cecile Skroback, January 31,1927-March 6,2014
Welcome to My Website for Educators!
Teach PEACE and TOLERANCE
Try doing an act of kindness for someone, today!

"Remember no one can make you feel inferior without your consent."
Eleanor Roosevelt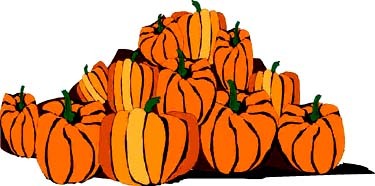 PLEASE TAKE A MOMENT AND SIGN MY GUESTMAP. I'D LOVE TO SEE WHERE MY VISITORS CALL HOME! Click on the GLOBE ICON on the left to open the map.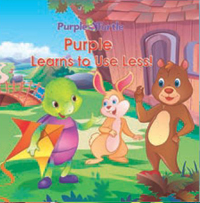 Check out Purple Turtle EBOOKS.(Grades 1-3). Purple Turtle and his friends, including a stuttering rabbit named Zing, Biggy Bear, Squirty the Squirrel and others can help introduce conservation, friendship,honesty,anti-bullying and other concepts to young children. Only $1.99 each. Purple Turtle Stories
VERY EXCITING NEWS: My Purple Turtle Story, Purple and the Cupcakes, was made into an animated cartoon! Check it out here:Purple Turtle animated story!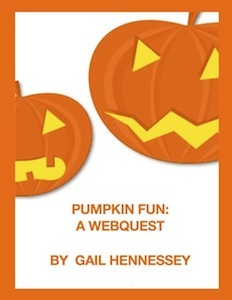 Learn about pumpkins:Pumpkin Fun Webquest!

Check out fun pumpkin facts to wow your friends. Click here:Pumpkin Facts!




Learn All Things Halloween with this 12 question webquest.Webquest includes information on bats, owls, pumpkins, the human skeleton, famous stories in literature and more. Comprehension questions and extension activities included, too! Click here:All Things Halloween!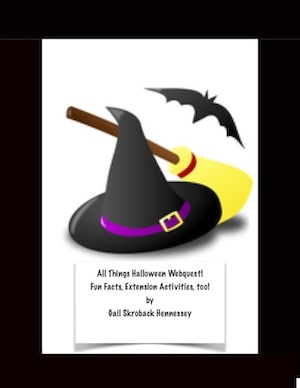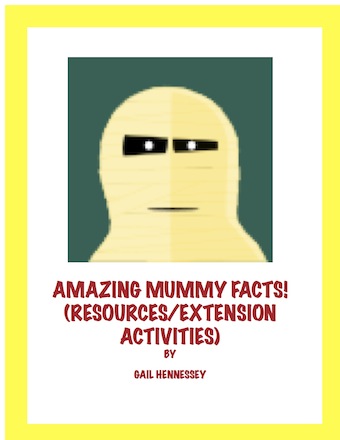 Learn some fun MUMMY FACTS: Click here:MUMMIES!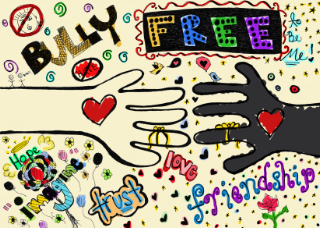 During September 29-October 3rd, kids and adults are being encouraged to join the "I Speak Up" campaign sponsored by the Cartoon Network. It is the annual challenge to stand up to bullying. It is hoped that one million people will to make a video stating just three words, "I Speak Up" and upload their recordings to their site. Go toISpeakUp.comto learn more. National Bullying Prevention Month is in October. Click here to learn more about Anti-Bullying Activities to use in the classroom.Stand up to Bullying!

IN THE NEWS TODAY:10/26/2014:
Google computer scientist Alan Eustace has just broken a record held by Felix Baumgartner for the the highest altitude jump. Eustace used a helium ballon to reach 26 miles above the earth(or about 135,000 ft.) and then...jumped! Wearing a specially designed suit, Eustace hit speeds of 830 mph, actually traveling the speed of sound, in his 15 minute descent back to Earth. Baumgartner, in 2012, jumped from 128,100 ft. As for the amazing jump, Eustace said that he could see the layers of the atmosphere, the darkness of space and that it was an amazing experience.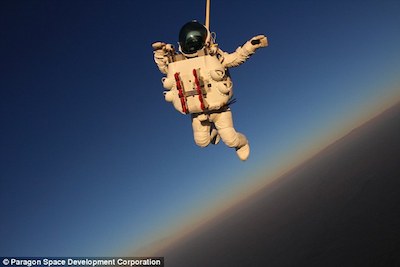 photograph from dailymail.co.uk
The world record (North America) for heaviest pumpkin has been smashed once again! Last year,Guinness World Records crowned Tim Mathison, Napa, California,with the record for his 2032 pound pumpkin.This year's gourd , grown by John Hawkley, was weighed at a pumpkin contest in California. It tipped the scales at 2058 pounds! That's the size of a small car. Amazingly, Hawkley also had another pumpkin that was over 2000 pounds(that's ONE ton!). And, that's not the WORLD'S biggest.This, year, a pumpkin in Germany tipped the scales at 2296 pounds!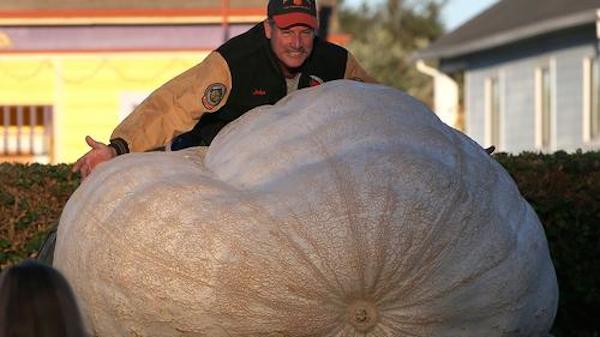 Photograph from: http://www.latimes.com

The South American Goliath birdeater isn't an itsey bitsey spider. It's the world's largest and it's a whopper. Recently, entomologist(bug scientist) Piotr Naskrecki was walking in the rainforest of Guyana and heard a noise. His flashlight spotted the usually elusive giant arachnid. The size of a small puppy, the spider can have 2 inch long fangs. It also can have a fist size body and its legs are about the size of a child's forearm. Although the giant spider is threatening to look at, its poisonous bite is not harmful to humans. However, as Naskrecki heard, it has an interesting defense. It rubs its back legs onto its body releasing hairs that have sharp barbs on them which can be painful if they reach your body! Naskrecki captured the spider and brought it back to study.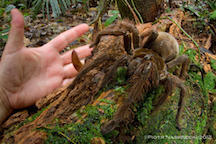 Photograph from news.yahoo.com

A plane landed at Vandenberg Air Force Base in California. That might not sound newsworthy but the plane has been in Earth's orbit for almost TWO years! The unmanned space craft,called the Orbital Test Vehicle, has been on a top-secret flight since it was launched back in December 2012. Like the space shuttle, it originally was sent into orbit by rockets but was able to glide back to earth for a landing.The United States Air Force isn't saying much about the spacecraft or its mission. What do you think might have been its mission?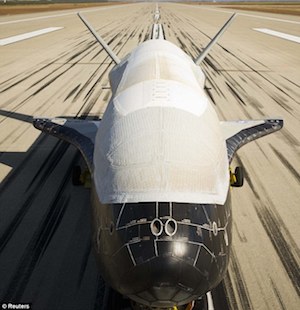 Photograph from Dailymail.co.uk

You have until October 22nd to submit a name for the Rosetta Mission's Landing Site. On November 12, a European Space Agency hopes to land a space probe, Philae, onto a comet. If successful, it will be the first landing of a man-made object onto a comet. The mission is known as Rosetta and was launched in 2004. This past August, the probe arrived at the comet. It is hoped that much information will be learned as the probe orbits along with the comet around the sun. Scientists also hope that the landing of the smaller probe onto the comet's surface will help them learn more about the composition of a comet. The comet is called 67P/Churyumov-Gerasimenko. You are asked to suggest a name(not a person) and give a short explanation for your selection as to why you think SITE J should be the best choice for the location. Go to this link to learn more:CONTEST INFORMATIONThe winning name will be announced on November 3rd.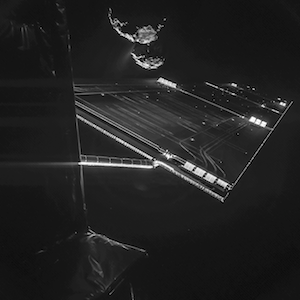 The "selfie" of the Rosetta is from Rosetta.esa.int
The look of an umbrella may be changing with the Air Umbrella. It isn't your traditional looking umbrella. Instead,it looks like a flashlight. Nicknamed the invisible umbrella,the rain stays off your body with a shied of air! Still in the experimental stage, the battery operated Air Umbrella sends out a jet of air that creates a shield like environment preventing raindrops from landing on you. However, the invisible umbrella wouldn't be most helpful in very heavy rainfall!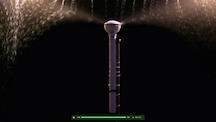 Photograph is from:http://www.themalaymailonline.com

Wonderful news! Malala Yousafzai, of Pakistan, becomes the youngest to ever win the Nobel Peace Prize(17 years old). She shares the award with Kailash Satyarthi, of India. Shot by Tailiban members two years ago for her efforts to allow girls to get an education, Malala continues to work toward that goal. She said of her attackers, The extremists were, and they are, afraid of books and pens. She said that books and pens are the most powerful of weapons. Congrats to Malala...she is an inspiration! "Let us remember: One book, one pen, one child, and one teacher can change the world". Malala Yousafzai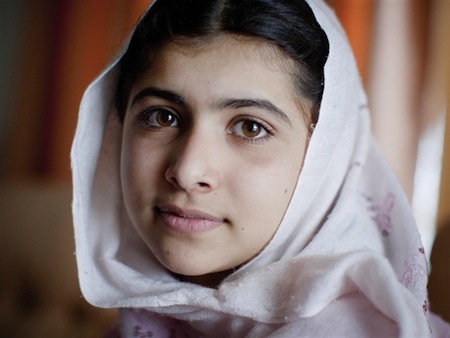 <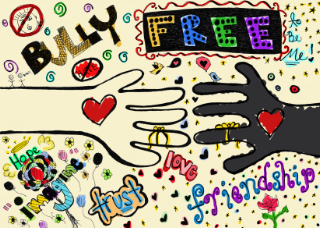 LOOK!
I remember the saying "Sticks and stones may break your bones but names can never hurt you". Personally, I never thought this to be true. Words are very powerful and negative words can hurt-a lot! Each day, thousands of young people experience some sort of bullying, either in words and/or actions. These two sites have great resources which might be of help to classroom teachers, parents and young people:
Stop Bullying!

Please check out the Anti-Bullying information on the Icon on the left margin
To any young people visiting my website. Please,if you are being bullied, seek help...SPEAK TO AN ADULT today!And, if you SEE something that looks like bullying-SAY something to an adult!

"The school is the last expenditure upon which America should be willing to compromise."FDR
"If a man empties his purse into his head, no man can take it away from him. An investment in knowledge always pays the best interest."(Ben Franklin)
"You must be the change you want to see in the world."(Mahatma Gandhi)
"School is a building that has four walls-with tomorrow inside."(Lon Watters)
"We know the future will outlast all of us, but I believe that all of us will live on in the future we make."(Senator Ted Kennedy)
"The purpose of life is a life of purpose." (Robert Byrne)
<"The purpose of life is to amount to something and have it make some difference that you lived at all."(Dear Abby)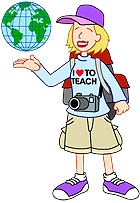 Special thanks to EducationWorld for letting me use this image of my "alter ego" as Mrs. "Waffenschmidt!

About Gail:

I have retired from teaching after 33 1/2 years in the classroom. Of that time, I taught Grade 6 Social Studies teacher for 31 1/2 years.I earned my BA in early secondary education with a concentration in social studies from SUNY Oneonta, New York, and my MST in social studies education from Binghamton University in New York. In 1988, I was awarded the Outstanding Elementary Social Studies Classroom Teacher of the Year Award from the New York State Council for the Social Studies. Additionally, in 1988, I was also awarded the Outstanding Elementary Social Studies Teacher of the Year Award by the National Council for the Social Studies.

My work has appeared in most children's publications including:
Appleseeds,Scholastic's Super Science,Scholastic's Science World, Highlights for Children, National Geographic World, Ranger Rick, Cobblestone, Faces, Muse Magazine, Contact Kids, US Kids, Action Magazine(Scholastic), Girls' Life, Boys' Life, American Girl, Instructor, Creative Classroom, Middle Years, Time for Kids, Scholastic News, Scholastic News Zone, Time for Kids , Ask Magazine, Dig, Calliope, Cobblestone, FACES, Studies Weekly, Glo Adventurer, and more.




---