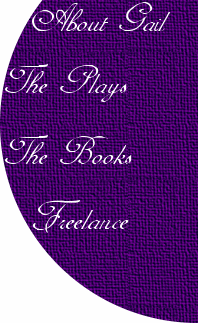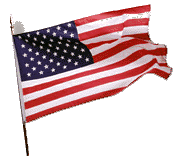 Remember Our Soldiers

Click Here for catalog:
Social Studies School Service/Resources for Teachers, Parents,counselors,more!

EbooksClick here for EBooks by Social Studies School Service!




My Latest Published Book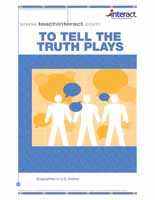 Click here to learn more:
Teachinteract.com

Materials for experiential,active learners

Inspire your kids to learn about the world:
Little Passports World Edition

Anti-Bullying Resources

*Clipart from NJBullying.org




Need a quick activity?

NEW! Bell Ringers!(New:7/2014)


In the News!
Updated regularly





Mrs. Portulaca Purpilopilis
and the Purple Adventure Goggles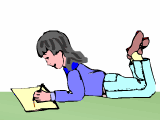 The Wooden Cookie Box Story The Wooden Cookie Box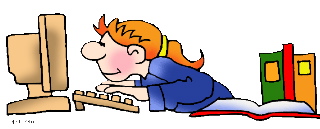 Facts to Wow your Friends!(New: 7/2014)

Teaching Ideas!

Webquests!

Geography Activities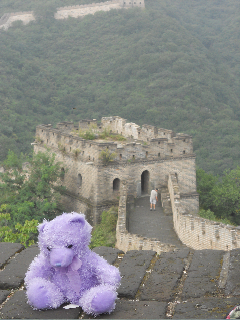 Purpleannie's Travels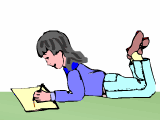 Crossword Puzzles!

Short Reads of interest

Dive into Career Choices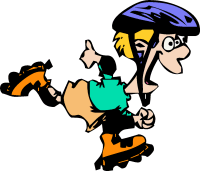 Kids Did It!

Teaching Tips A-Z

Great websites!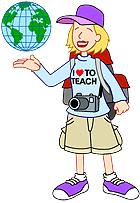 Mrs. Waffenschmidt


`

Science Fun!


`

P.R.A.I.S.E

MONEY, MONEY, MONEY
Gail's Glimmerings
Mail Gail:


Gail Hennessey

WEBSITES of INTEREST:


History For Kids

Ellen Jackson -Children's Author

Tween Tribune-News Stories for Student

DogoNews: Fodder for Young Minds

Time for Kids-Around the World

BBC Website for Kids

Teacherz-Pet

Kids Konnect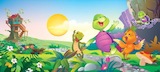 Purple Turtle EBOOKS!
Check out: Free Clipart




Award winning site for April 2008!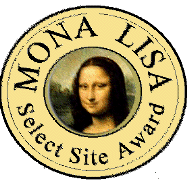 Free JavaScripts provided
by The JavaScript Source
Check out this day in History: Click here: http://www.nytimes.com/learning/general/onthisday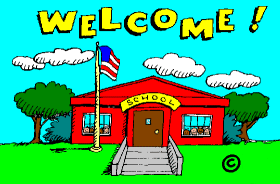 Have a wonderful school year!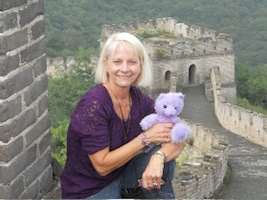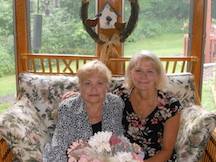 Always in my heart, Mom!
Cecile Skroback, January 31,1927-March 6,2014
Welcome to My Website for Educators!
Teach PEACE and TOLERANCE
Try doing an act of kindness for someone, today!

"Remember no one can make you feel inferior without your consent."
Eleanor Roosevelt
PLEASE TAKE A MOMENT AND SIGN MY GUESTMAP. I'D LOVE TO SEE WHERE MY VISITORS CALL HOME! Click on the GLOBE ICON on the left to open the map.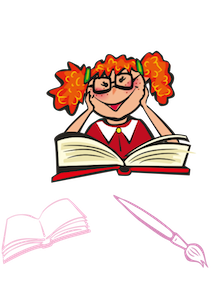 Back to School Sale on my TpT resources. If you purchase 3 resources between September 15- September 22, email me(include your buyer name at TpT) and I will send along a FREE resource of your choice!All free resources will not be emailed before Saturday, September 27th.See "Mail Gail: on the left or email from TpT Store.

All my resources are $4 or less...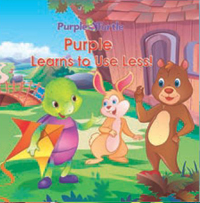 Check out Purple Turtle EBOOKS.(Grades 1-3). Purple Turtle and his friends, including a stuttering rabbit named Zing, Biggy Bear, Squirty the Squirrel and others can help introduce conservation, friendship,honesty,anti-bullying and other concepts to young children. Only $1.99 each. Purple Turtle Stories
VERY EXCITING NEWS: My Purple Turtle Story, Purple and the Cupcakes, was made into an animated cartoon! Check it out here:Purple Turtle animated story!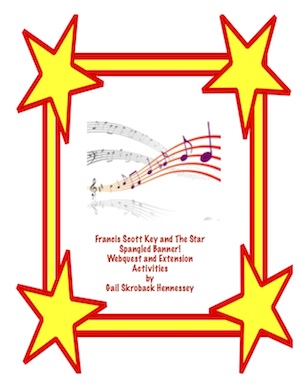 Happy 200th Birthday to The Star Spangled Banner! September 14, 2014, is the 200th anniversary of Francis Scott Key's writing of the poem which became our national anthem, The Star Spangled Banner. Use this web quest to learn about Francis Scott Key, the national anthem and the war of 1812. There are nine web questions, 9 comprehension/thought questions, fun facts and extension activities.Click here:Happy 200th Birthday,The Star Spangled Banner!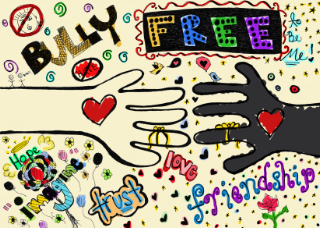 During September 29-October 3rd, kids and adults are being encouraged to join the "I Speak Up" campaign sponsored by the Cartoon Network. It is the annual challenge to stand up to bullying. It is hoped that one million people will to make a video stating just three words, "I Speak Up" and upload their recordings to their site. Go toISpeakUp.comto learn more. National Bullying Prevention Month is in October. Click here to learn more about Anti-Bullying Activities to use in the classroom.Stand up to Bullying!

IN THE NEWS TODAY:9/19/2014:
Could car tires be made from those pesky dandelions that pop up in our yards? There is a fungus killing the rubber tree plant in South America. Although synthetic rubber can be used for many products,car and airplane tires use real rubber. The sap from dandelion weeds contains rubber and scientists think that harnessing dandelion rubber could help. Could dandelion farms be springing up soon?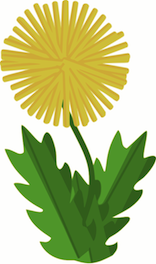 On a recent British television show, it was said that there is nothing more useless than a chocolate teapot. That got a chocolatier at Nestle's to set out to prove this thought incorrect.John Costello said it was possible to make a cup of tea from a chocolate teapot. Using dark chocolate(less fat content and more heat resistant), Costello and his team worked for six weeks experimenting with shapes, the size of the hole and thickness of the teapot and eventually came up with a chocolate tea pot that could retain heated water without melting away. The results, a chocolate teapot that brewed tea...with a taste of chocolate, of course.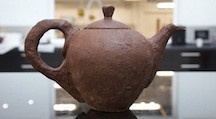 Photograph from odditycentral.com
Back in 1845 two British ships sailed into the Canadian Arctic searching for the Northern Passage. The ships, the HMS Erebus and HMS Terror were never seen again. Called the Franklin expedition, it was thought the ships got trapped in the ice. Captain Sir John Franklin and his 128 men were never seen again. This week, marine archeologists,using sonar imaging, found one of the two ships, off the coast of King William Island. Because of the very cold temperatures, the ship appears to be in very good condition. As the Arctic melts, the Northwest Passage shipping route is claimed by the country of Canada. Other nations, including the United States say that the Northwest passage is international territory and belongs to no one country. Who do you think owns the Northwest Passage? Why is this route important to shipping?
Photograph from southbendtribune.com
Seventy percent of a dinosaur which is longer than a Boeing 737 jet has been unearthed in southern Argentina. It is the most complete Dreadnoughtus schrani ever found. The dinosaur was a plant-eating long necked sauropod that was the height of a two-story building. Its weight was about that of 12 elephants or about 65 tons! The Dreadnoughtus scharani lived about 77 million years ago and was named after a steel warship. Originally some bones were discovered in 2005 and it's been an ongoing slow process to continue to unearth the remains. Interestingly, the remains of the dinosaur's head that was atop the 37 ft. neck have yet to be discovered!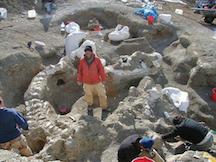 Photograph from LiveScience.com
What if you could power a flashlight without batteries? Ann Makosinski, 16, has come up with such a flashlight that has an unusual power source...body heat! Called thermoelectric technology, Ann wanted to come up with a flashlight to help those that don't have electricity. She said that much of the heat radiating out of us is wasted. Ann decided to see if she could harness some of that heat. Her bright idea won the Google Science Fair Award. Her prize, a trophy made from Legos, a trip to Denmark where Legos is headquartered and a $25,000 scholarship.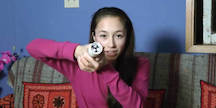 Photograph from odditycentral.com
A ship from the ancient sea traders known as the Phoenicians was discovered in waters off of the island of Malta. The 2700 year old wooden vessel which is about 50 ft. long, is in very good condition. On the sea bed near the ship were twenty grinding stones, lots of amphora jars and other ceramic containers, many still intact! The Phoenicians, who lived in present day Lebanon, were famous for developing the first alphabet and sharing it with all they met along their trading routes. They also made a purple dye, made from the murex snail, which was very desired by people that could afford to purchase it.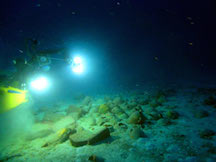 Photograph from:http://www.sci-news.com/

Archives of IN THE NEWS: Click here: IN THE NEWS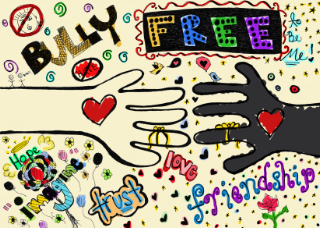 LOOK!
I remember the saying "Sticks and stones may break your bones but names can never hurt you". Personally, I never thought this to be true. Words are very powerful and negative words can hurt-a lot! Each day, thousands of young people experience some sort of bullying, either in words and/or actions. These two sites have great resources which might be of help to classroom teachers, parents and young people:
Stop Bullying!

Please check out the Anti-Bullying information on the Icon on the left margin
To any young people visiting my website. Please,if you are being bullied, seek help...SPEAK TO AN ADULT today!And, if you SEE something that looks like bullying-SAY something to an adult!

"The school is the last expenditure upon which America should be willing to compromise."FDR
"If a man empties his purse into his head, no man can take it away from him. An investment in knowledge always pays the best interest."(Ben Franklin)
"You must be the change you want to see in the world."(Mahatma Gandhi)
"School is a building that has four walls-with tomorrow inside."(Lon Watters)
"We know the future will outlast all of us, but I believe that all of us will live on in the future we make."(Senator Ted Kennedy)
"The purpose of life is a life of purpose." (Robert Byrne)
<""The purpose of life is to amount to something and have it make some difference that you lived at all."(Dear Abby)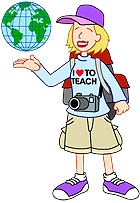 Special thanks to EducationWorld for letting me use this image of my "alter ego" as Mrs. "Waffenschmidt!

About Gail:

I have retired from teaching after 33 1/2 years in the classroom. Of that time, I taught Grade 6 Social Studies teacher for 31 1/2 years.I earned my BA in early secondary education with a concentration in social studies from SUNY Oneonta, New York, and my MST in social studies education from Binghamton University in New York. In 1988, I was awarded the Outstanding Elementary Social Studies Classroom Teacher of the Year Award from the New York State Council for the Social Studies. Additionally, in 1988, I was also awarded the Outstanding Elementary Social Studies Teacher of the Year Award by the National Council for the Social Studies.

My work has appeared in most children's publications including:
Appleseeds,Scholastic's Super Science,Scholastic's Science World, Highlights for Children, National Geographic World, Ranger Rick, Cobblestone, Faces, Muse Magazine, Contact Kids, US Kids, Action Magazine(Scholastic), Girls' Life, Boys' Life, American Girl, Instructor, Creative Classroom, Middle Years, Time for Kids, Scholastic News, Scholastic News Zone, Time for Kids , Ask Magazine, Dig, Calliope, Cobblestone, FACES, Studies Weekly, Glo Adventurer, and more.




---