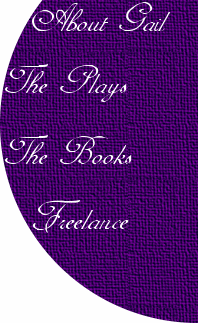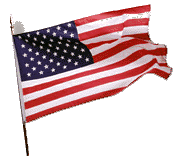 Remember Our Soldiers

Click Here for catalog:Social Studies School Service/Resources for Teachers, Parents,counselors,more!


EbooksClick here for EBooks by Social Studies School Service!




My Latest Published Book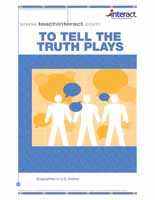 Click here to learn more: Teachinteract.com

Materials for experiential,active learners

Anti-Bullying Resources

*Clipart from NJBullying.org




Need a quick activity?

NEW! Bell Ringers!


In the News!
Updated regularly





Mrs. Portulaca Purpilopilis
and the Purple Adventure Goggles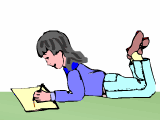 The Wooden Cookie Box Story The Wooden Cookie Box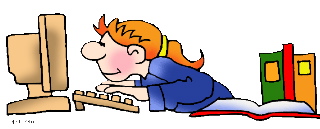 Facts to Wow your Friends!(New 10/13-Island Fun!)

Teaching Ideas!

Webquests!

Geography Activities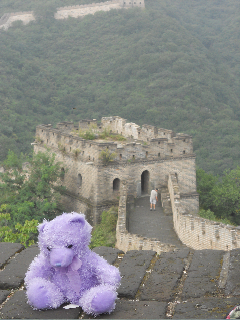 Purpleannie's Travels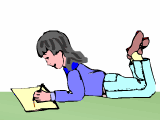 Crossword Puzzles!

Short Reads of interest

Dive into Career Choices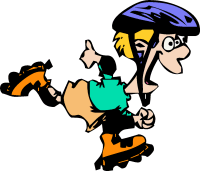 Kids Did It!

Teaching Tips A-Z

Great websites!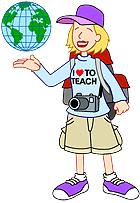 Mrs. Waffenschmidt


`

Science Fun!


`

P.R.A.I.S.E

MONEY, MONEY, MONEY
Gail's Glimmerings
Mail Gail:


Gail Hennessey

WEBSITES of INTEREST:


History For Kids

Ellen Jackson -Children's Author

Tween Tribune-News Stories for Student

DogoNews: Fodder for Young Minds

Time for Kids-Around the World

BBC Website for Kids

Teacherz-Pet

Kids Konnect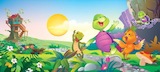 Purple Turtle EBOOKS!
Check out: Free Clipart




Award winning site for April 2008!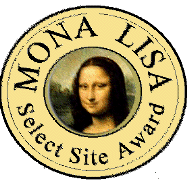 Free JavaScripts provided
by The JavaScript Source
Check out this day in History: Click here: http://www.nytimes.com/learning/general/onthisday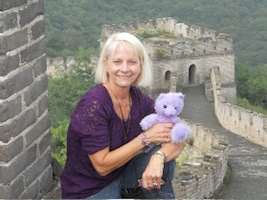 Welcome to My Website for Educators!
Teach PEACE and TOLERANCE
Try doing an act of kindness for someone, today!

"Remember no one can make you feel inferior without your consent."
Eleanor Roosevelt

Happy St. Patrick's Day!
Learn about Ireland with this webquest.Click here:Ireland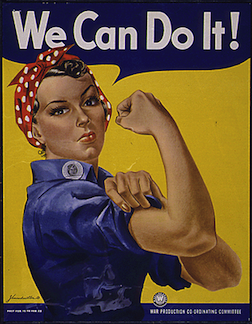 March is WOMEN'S HISTORY MONTH
Think of 3 women in history who have had an influence on your life.Check out this link:First Ladies of the United States Webquest
Women's History- Learn more: Click here:Women's History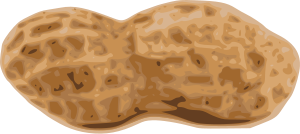 March is National Peanut Month. Learn about the Peanut.Click here: Learn about the Peanut!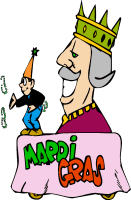 Mardi Gras, a French word meaning"Fat Tuesday", begins on Tuesday, March 4th. New Orleans is famous for their Mardi Gras celebrations including a huge parade and special parties. Purple, green and gold are the colors of Mardi Gras.People go to the parade hoping that colorful beads, doubloons(coins) and other gifts will be thrown to them. Mardi Gras is the day before Ash Wednesday.After Mardi Gras, Catholics begin a period of time called Lent, a period of 40 when they fast(give up) something they enjoy doing, until Easter.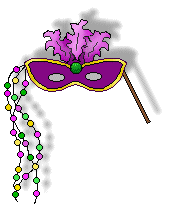 Learn more about Mardi Gras
PLEASE TAKE A MOMENT AND SIGN MY GUESTMAP. I'D LOVE TO SEE WHERE MY VISITORS CALL HOME! Click on the GLOBE ICON on the left to open the map.
Check out my TPT Store:TeachersPayTeachers-See my materials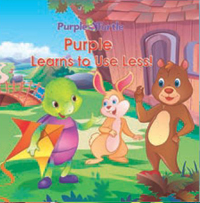 Check out Purple Turtle EBOOKS.(Grades 1-3). Purple Turtle and his friends, including a stuttering rabbit named Zing, Biggy Bear, Squirty the Squirrel and others can help introduce conservation, friendship,honesty,anti-bullying and other concepts to young children. Only $1.99 each. Purple Turtle Stories

IN THE NEWS TODAY:3/3/2014:
Do you like cheese? The world's oldest pieces of cheese, dating back 3600 years,has been found not in containers but on necklaces of mummies found in China. The yellow clumps of cheese were found on mummies found in the Taklamakan Desert of northwestern China. Archaeologists think that the cheese necklaces may have been placed on the mummies(preserved bodies)to provide something to eat in the afterlife. Because of the dry conditions where the mummies were buried, the cheese didn't decay.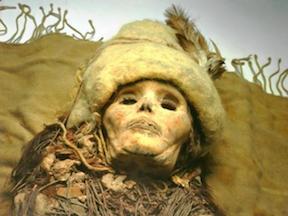 Photograph from NYDailynews.com
Dylan Siegel, 7,Los Angeles has a friend that needs medical treatment. Jonah Pournazarian, 7,has a rare liver disease for which there currently is no cure. Dylan decided at the age of six years old to help his friend by writing a book. One year later, his book, "Chocolate Bar", has raised $500,000. People all over the world have been buying Dylan's book with over 11,000 sold to date.He is trying to raise one million dollars to find a cure for his friend's disease. All money from the 16 page handwriting book, goes to the cure. Dylan uses the world chocolate bar to mean "awesome" or "cool". All the attention that Dylan has received for his efforts have brought the rare liver disease into the spotlight. Way to go, Dylan!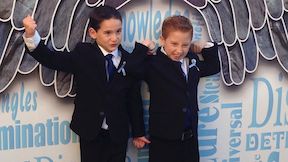 Photograph from chocolatebarbook.com

Using the Kepler space telescope, launched in 2009, NASA has announced that our universe is getting more and more crowded. 715 new exoplanets have been discovered which orbit 305 different stars. The newly discovered batch of exoplanets almost doubles the number of alien planets previously known! Most of these alien worlds are smaller than the planet Neptune(which is 4 times the size of planet Earth).And, NASA said there are still others heavenly bodies that have been spotted by the space telescope that are still under study to be classified as exoplanets.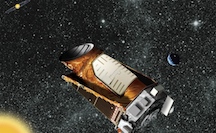 Illustration from Nature.com

Sixth grade students at the Morristown-Beard School,Morristown, in New Jersey, launched a 5 ft. long model boat into the Atlantic Ocean. On board the craft was a GPS tracking device.The students also placed their names on the bottom of the boat and a photograph as well as a message in several languages. Part of a geography project, the students watched the location of their boat,called the Crimson Tide, as it made its way into the Gulf Stream. Fourteen months later, the ship has gone nearly 3000 miles and arrived at the English Channel island of Guernsey! It was here that it was found by a fisherman. Covered in barnacles, the boat had lost its mast and a waterproof capsule. The container with items including a school tee-shirt, thumb drive with messages and more photographs, and even some money, were lost during the Crimson Tide's voyage. It is hoped that with a new sail and battery for the GPS, the ship can be relaunched with it maybe, returning back to this side of the Atlantic!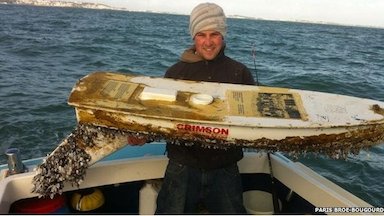 Photograph from BBC.co.uk
Shubham Banerjee,12, of California,used a Lego kit and created something that can help others. He invented a Braille printer! Called Braigo(combining the words braille and Lego), Shubham's printer is hundreds of dollars less than those currently on the market. It is Shubham's goal to help blind people around the world, especially in poorer nations. Shubham used the Lego Mindstorms EV3 set to create his printer which he submitted for a local science fair. The Lego company, based in Denmark,having learned of the seventh grader's invention using their blocks, tweeted,"We're very proud. Impressive work for a great cause."Shubham plans to allow others to be able to make his Braigo, free of charge.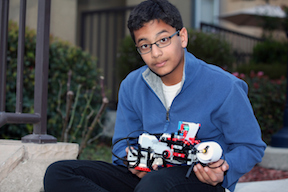 Photograph from Gigaom.com

Lapplander reindeer herders in northern Finland are trying an unusual idea to prevent their herd from being hit by cars. They are experimenting with using special fluorescent paint and spray painting the reindeers' antlers so they glow in the dark! Ideas to use reflective tape and reflectors on the reindeer haven't been successful. If this new idea "shines", thousands of reindeer will be sporting a glow in the coming months. A representative from the Finnish Reindeer Herders' Association said that currently 20 reindeer have been painted with different glowing paint on their fur and antlers to see which paints and location work best in the cold, windy Arctic climate. Of, course, the chemicals used must also be non-toxic to the health of the reindeer.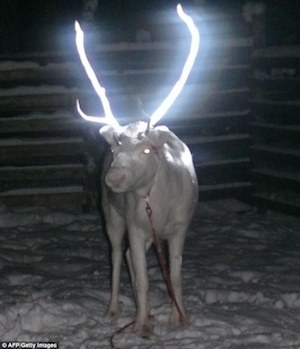 Photograph from Dailymail.co.uk

Archives of IN THE NEWS: Click here: IN THE NEWS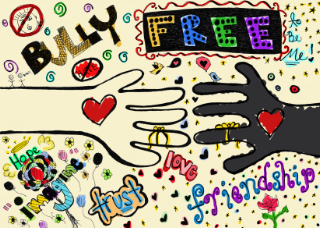 LOOK!
I remember the saying "Sticks and stones may break your bones but names can never hurt you". Personally, I never thought this to be true. Words are very powerful and negative words can hurt-a lot! Each day, thousands of young people experience some sort of bullying, either in words and/or actions. These two sites have great resources which might be of help to classroom teachers, parents and young people:
Stop Bullying!

Please check out the Anti-Bullying information on the Icon on the left margin
To any young people visiting my website. Please,if you are being bullied, seek help...SPEAK TO AN ADULT today!And, if you SEE something that looks like bullying-SAY something to an adult!

"The school is the last expenditure upon which America should be willing to compromise."FDR
"If a man empties his purse into his head, no man can take it away from him. An investment in knowledge always pays the best interest."(Ben Franklin)
"You must be the change you want to see in the world."(Mahatma Gandhi)
"School is a building that has four walls-with tomorrow inside."(Lon Watters)
"We know the future will outlast all of us, but I believe that all of us will live on in the future we make."(Senator Ted Kennedy)
"The purpose of life is a life of purpose." (Robert Byrne)
<""The purpose of life is to amount to something and have it make some difference that you lived at all."(Dear Abby)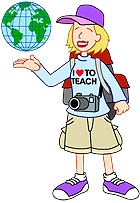 Special thanks to EducationWorld for letting me use this image of my "alter ego" as Mrs. "Waffenschmidt!

About Gail:

I have retired from teaching after 33 1/2 years in the classroom. Of that time, I taught Grade 6 Social Studies teacher for 31 1/2 years.I earned my BA in early secondary education with a concentration in social studies from SUNY Oneonta, New York, and my MST in social studies education from Binghamton University in New York. In 1988, I was awarded the Outstanding Elementary Social Studies Classroom Teacher of the Year Award from the New York State Council for the Social Studies. Additionally, in 1988, I was also awarded the Outstanding Elementary Social Studies Teacher of the Year Award by the National Council for the Social Studies.

My work has appeared in most children's publications including:
Appleseeds,Scholastic's Super Science,Scholastic's Science World, Highlights for Children, National Geographic World, Ranger Rick, Cobblestone, Faces, Muse Magazine, Contact Kids, US Kids, Action Magazine(Scholastic), Girls' Life, Boys' Life, American Girl, Instructor, Creative Classroom, Middle Years, Time for Kids, Scholastic News, Scholastic News Zone, Time for Kids , Ask Magazine, Dig, Calliope, Cobblestone, FACES, Studies Weekly, Glo Adventurer, and more.




---