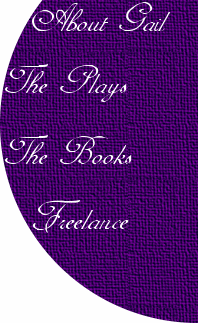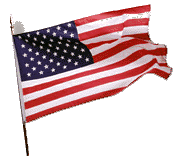 Remember Our Soldiers

Click Here for catalog:
Social Studies School Service/Resources for Teachers, Parents,counselors,more!

EbooksClick here for EBooks by Social Studies School Service!




My Latest Published Book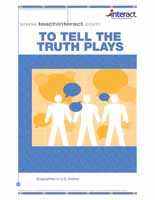 Click here to learn more:
Teachinteract.com

Materials for experiential,active learners

Inspire your kids to learn about the world:
Little Passports World Edition

Anti-Bullying Resources

*Clipart from NJBullying.org




Need a quick activity?

NEW! Bell Ringers!(New:7/2014)


In the News!
Updated regularly





Mrs. Portulaca Purpilopilis
and the Purple Adventure Goggles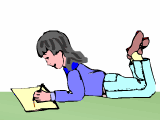 The Wooden Cookie Box Story The Wooden Cookie Box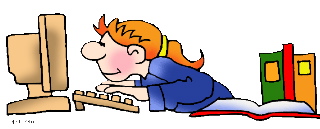 Facts to Wow your Friends!(New: 7/2014)

Teaching Ideas!

Webquests!

Geography Activities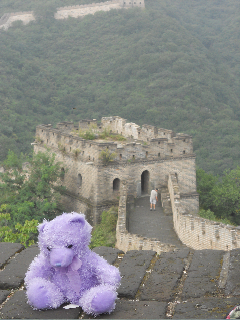 Purpleannie's Travels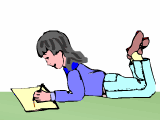 Crossword Puzzles!

Short Reads of interest

Dive into Career Choices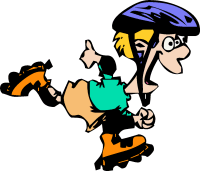 Kids Did It!

Teaching Tips A-Z

Great websites!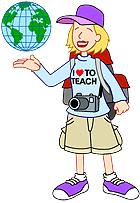 Mrs. Waffenschmidt


`

Science Fun!


`

P.R.A.I.S.E

MONEY, MONEY, MONEY
Gail's Glimmerings
Mail Gail:


Gail Hennessey

WEBSITES of INTEREST:


History For Kids

Ellen Jackson -Children's Author

Tween Tribune-News Stories for Student

DogoNews: Fodder for Young Minds

Time for Kids-Around the World

BBC Website for Kids

Teacherz-Pet

Kids Konnect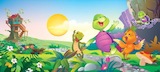 Purple Turtle EBOOKS!
Check out: Free Clipart




Award winning site for April 2008!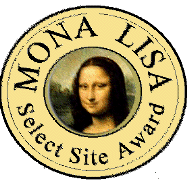 Free JavaScripts provided
by The JavaScript Source
Check out this day in History: Click here: http://www.nytimes.com/learning/general/onthisday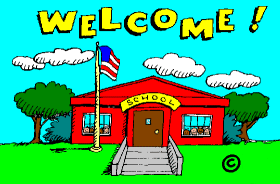 Have a wonderful school year!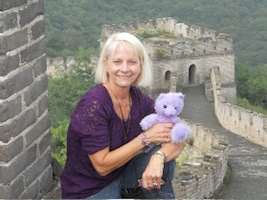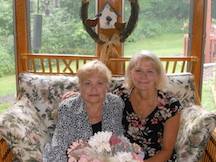 Always in my heart, Mom!
Cecile Skroback, August 31,1927-March 6,2014
Welcome to My Website for Educators!
Teach PEACE and TOLERANCE
Try doing an act of kindness for someone, today!

"Remember no one can make you feel inferior without your consent."
Eleanor Roosevelt
PLEASE TAKE A MOMENT AND SIGN MY GUESTMAP. I'D LOVE TO SEE WHERE MY VISITORS CALL HOME! Click on the GLOBE ICON on the left to open the map.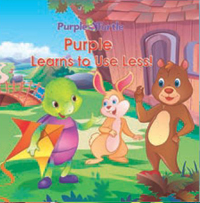 Check out Purple Turtle EBOOKS.(Grades 1-3). Purple Turtle and his friends, including a stuttering rabbit named Zing, Biggy Bear, Squirty the Squirrel and others can help introduce conservation, friendship,honesty,anti-bullying and other concepts to young children. Only $1.99 each. Purple Turtle Stories
VERY EXCITING NEWS: My Purple Turtle Story, Purple and the Cupcakes, was made into an animated cartoon! Check it out here:Purple Turtle animated story!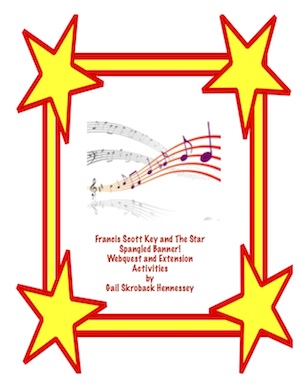 Happy 200th Birthday to The Star Spangled Banner! September 14, 2014, is the 200th anniversary of Francis Scott Key's writing of the poem which became our national anthem, The Star Spangled Banner. Use this web quest to learn about Francis Scott Key, the national anthem and the war of 1812. There are nine web questions, 9 comprehension/thought questions, fun facts and extension activities.Click here:Happy 200th Birthday,The Star Spangled Banner!

IN THE NEWS TODAY:8/21/2014:
How do you get to school? Do you walk, ride a bike or take a bus? Approximately 60 students in a rural village in India's Gujarat state, walk and WADE across a river each day to get to and from their high school! There isn't any public transportation and there isn't a bridge for them to cross the river. Their village is located across the Heran River from the Utavali High School. The river is about 50 ft across. After making the river crossing wading across shoulder deep waters, the students still have another three mile walk before they start their school day! The only other way is to walk almost 16 miles to avoid the river crossing. Students carry their books, homework and dry clothes in plastic bags or containers. After a day at school, the students repeat the journey home. Think of three words to describe these students.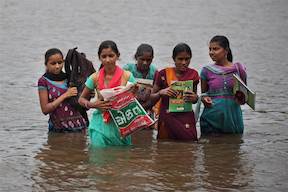 Photograph from: http://www.nbcnews.com/news/education/
Making a five-pointed star may not be newsworthy until you learn it was a bunch of teeny robots that did it! Scientists at Harvard University got 1024 tiny three-legged robots(called kilobots )to worked together to form a star and a K shape(for kilobot).Scientists observed the interaction of ants, starlings and schools of fish to get the idea for the kilobots. Four robots were used to begin the shape. They gave off a signal with infrared laser beams. Other kilobots, all the size of a pingpong ball, began to position themselves into place. The experience required collective behavior and coordination of tiny robots' actions as none of the kilobots could see the "whole picture".
Photograph from theguardian.com
A 60 ft. deep lake has mysterious appeared in the Tunisian desert a couple of weeks ago. The lake covers two acres and may have been created by seismic activities with clear crystal water seeping to the surface. It's been named Lac de Gafsa. With temps over 100 degrees, people have been coming to the lake for a swim in water that has turned blue turquoise. Unfortunately, scientists don't think this is a good idea as if it was created by seismic action, it could disappear as suddenly as it appeared, making it very unsafe for swimming. Also, the water is high in phosphates and other contaminates.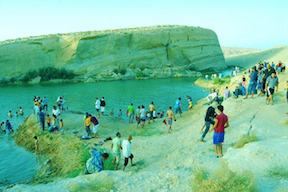 Photograph from nypost.com

See a clip at:Kilobots at Work!

One of the 16 teams at the upcoming Little League World Series held each year in Williamsport, PA, will be the Taney Dragons from Philadelphia. One of the players on the Taney Dragons can throw a 71 mph fastball and pitched a shutout-no runs scored at the game which got the team into the series. The little leaguer is also a girl. Mo-Ne Davis, 13, is only the eighteenth girl to play in the Little League World Series. She made history being the first girl to pitch a complete shutout the Little League World Series playoff games. Keep an eye out for eight grader Mo-Ne Davis when she comes up at bat. If Mo-Ne hits a homerun, she will be the first female to ever do so in the championship's history!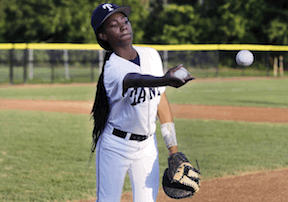 Photograph from finance.yahoo.com

Archives of IN THE NEWS: Click here: IN THE NEWS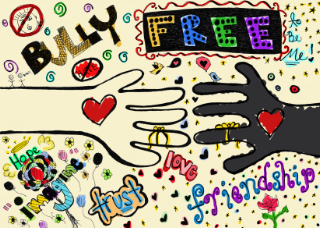 LOOK!
I remember the saying "Sticks and stones may break your bones but names can never hurt you". Personally, I never thought this to be true. Words are very powerful and negative words can hurt-a lot! Each day, thousands of young people experience some sort of bullying, either in words and/or actions. These two sites have great resources which might be of help to classroom teachers, parents and young people:
Stop Bullying!

Please check out the Anti-Bullying information on the Icon on the left margin
To any young people visiting my website. Please,if you are being bullied, seek help...SPEAK TO AN ADULT today!And, if you SEE something that looks like bullying-SAY something to an adult!

"The school is the last expenditure upon which America should be willing to compromise."FDR
"If a man empties his purse into his head, no man can take it away from him. An investment in knowledge always pays the best interest."(Ben Franklin)
"You must be the change you want to see in the world."(Mahatma Gandhi)
"School is a building that has four walls-with tomorrow inside."(Lon Watters)
"We know the future will outlast all of us, but I believe that all of us will live on in the future we make."(Senator Ted Kennedy)
"The purpose of life is a life of purpose." (Robert Byrne)
<""The purpose of life is to amount to something and have it make some difference that you lived at all."(Dear Abby)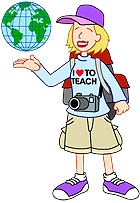 Special thanks to EducationWorld for letting me use this image of my "alter ego" as Mrs. "Waffenschmidt!

About Gail:

I have retired from teaching after 33 1/2 years in the classroom. Of that time, I taught Grade 6 Social Studies teacher for 31 1/2 years.I earned my BA in early secondary education with a concentration in social studies from SUNY Oneonta, New York, and my MST in social studies education from Binghamton University in New York. In 1988, I was awarded the Outstanding Elementary Social Studies Classroom Teacher of the Year Award from the New York State Council for the Social Studies. Additionally, in 1988, I was also awarded the Outstanding Elementary Social Studies Teacher of the Year Award by the National Council for the Social Studies.

My work has appeared in most children's publications including:
Appleseeds,Scholastic's Super Science,Scholastic's Science World, Highlights for Children, National Geographic World, Ranger Rick, Cobblestone, Faces, Muse Magazine, Contact Kids, US Kids, Action Magazine(Scholastic), Girls' Life, Boys' Life, American Girl, Instructor, Creative Classroom, Middle Years, Time for Kids, Scholastic News, Scholastic News Zone, Time for Kids , Ask Magazine, Dig, Calliope, Cobblestone, FACES, Studies Weekly, Glo Adventurer, and more.




---