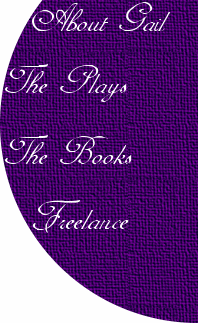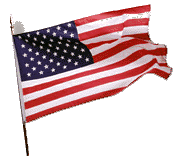 Remember Our Soldiers

Click Here for catalog:Social Studies School Service/Resources for Teachers, Parents,counselors,more!




My Latest Published Book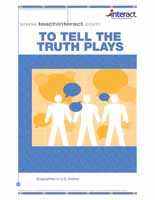 Click here to learn more: Teachinteract.com

Materials for experiential,active learners

Anti-Bullying Resources

*Clipart from NJBullying.org




Need a quick activity?

NEW! Bell Ringers!


In the News!
Updated regularly





Mrs. Portulaca Purpilopilis
and the Purple Adventure Goggles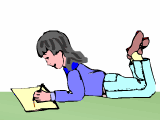 The Wooden Cookie Box Story The Wooden Cookie Box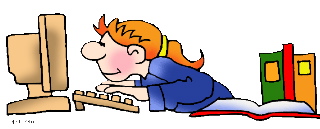 Facts to Wow your Friends!(New 10/13-Island Fun!)

Teaching Ideas!

Webquests!

Geography Activities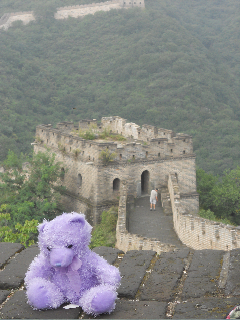 Purpleannie's Travels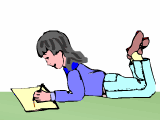 Crossword Puzzles!

Short Reads of interest

Dive into Career Choices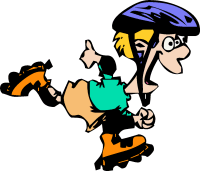 Kids Did It!

Teaching Tips A-Z

Great websites!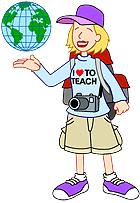 Mrs. Waffenschmidt


`

Science Fun!


`

P.R.A.I.S.E

MONEY, MONEY, MONEY
Gail's Glimmerings
Mail Gail:


Gail Hennessey

WEBSITES of INTEREST:


History For Kids

Ellen Jackson -Children's Author

Tween Tribune-News Stories for Student

DogoNews: Fodder for Young Minds

Time for Kids-Around the World

BBC Website for Kids

Teacherz-Pet

Kids Konnect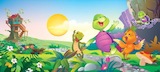 Purple Turtle EBOOKS!
Check out: Free Clipart




Award winning site for April 2008!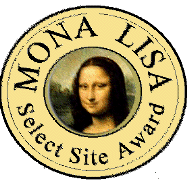 Free JavaScripts provided
by The JavaScript Source
Check out this day in History: Click here: http://www.nytimes.com/learning/general/onthisday
Welcome to My Website for Educators!
Teach PEACE and TOLERANCE

"Remember no one can make you feel inferior without your consent."
Eleanor Roosevelt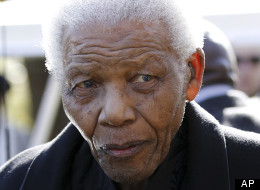 Nelson Mandela, 95, statesman and activist has died. Mandela,of South Africa, worked to end apartheid in his country(laws that separated whites and black races) and spent 27 years in prison. He went on to become president of the country of the Republic of South Africa. He also won the Nobel Peace Prize(in 1993). One of his famous quote,"Education is the most powerful weapon which you can use to change the world."

Learn more about Nelson Mandela:Quotes/Extension Activites on Nelson Mandela

*Photograph from HuffingtonPost.com

Try doing an act of kindness for someone, today!





Merry Christmas and Happy Holidays to All!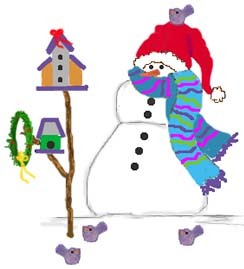 PLEASE TAKE A MOMENT AND SIGN MY GUESTMAP. I'D LOVE TO SEE WHERE MY VISITORS CALL HOME! Click on the GLOBE ICON on the left to open the map.
Check out my TPT Store:TeachersPayTeachers-See my materials


This is a great time of year to have your students learn about Charles Dickens, one of the most famous writers of all times. His story, A Christmas Carol, with Tiny Tim and Scrooge, is a very popular story at this time of year!Charles Dickens: A Webquest!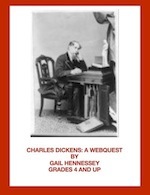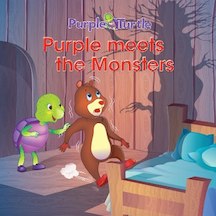 Check out Purple Turtle EBOOKS.(Grades 1-3). Purple Turtle and his friends, including a stuttering rabbit named Zing, Biggy Bear, Squirty the Squirrel and others can help introduce conservation, friendship,honesty,anti-bullying and other concepts to young children. Only $1.99 each. Purple Turtle Stories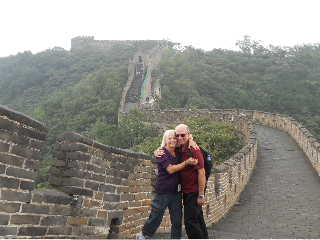 Gail and Cliff with a real pinch-me moment-on the Great Wall of China!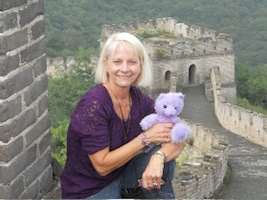 Check out some of my photographs from my 2011 trip to China


Check out Chinese Photographs here:
Great Clipart from: http://www.phillipmartin.info/clipart/homepage.htm
IN THE NEWS TODAY: 12/08/2013:
What do you get with 7200 eggs, 3000 pounds of brown sugar, 1800 pounds of butter, 7200 pounds of flour,1,080 ounces of ground ginger and 22,304 candy pieces? That's the world's biggest gingerbread house! The 20.11 ft. tall and 60 ft by 42 ft. house is located in Bryan,Texas., Guinness World Records says the really sweet house is a record setter. All money raised by people visiting the massive gingerbread house will go to charity.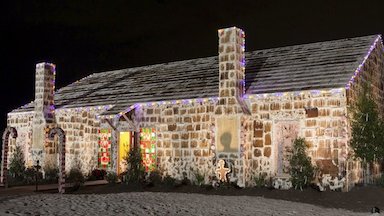 Photograph from http://www.bbc.co.uk/newsround/

If you like tongue twisters, this one is for you. PAD KID PURED CURD PULLED COLD. Researchers at Massachusetts Institute of Technology,studying the brain's speech-planning process, say that it is the most difficult tongue twister ever created. What makes it difficult to say the phrase several times is that it is a jumble of words and doesn't make any sense. Researchers say anther very difficult nonsense tongue twister is,"leap note nap lute." The Guinness Book of World Records, states the most difficult tongue twister which is a sentences is "The sixth sick sheik's sixth sheep's sick".

Scientists say they have found what is being called the "world's oldest public toilet"...for dinosaurs. Thousands of fossilized droppings(called coprolites)have been uncovered in the country of Argentina,in a region called La Rioja Province. The dino poo is from a dinosaur called Dinodontosaurus, a herbivore that lived about 240 million years ago which was somewhat like the rhinos of today. It is thought that even dinosaurs didn't want to "go" where they lived and ate. And, scientists think there was another reason for a common toilet area. It made those creatures wandering into the toilet territory think that with so many droppings, there must be a large herd of dinosaurs in the area...and, they'd better keep on moving! Studying the droppings will provide information on the diet and possible diseases of the dinosaurs that left their poo behind.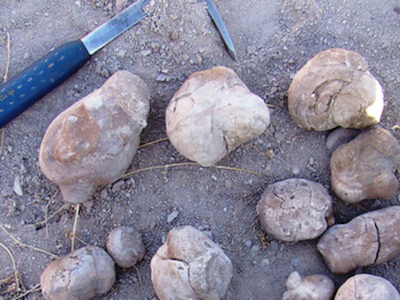 Photograph from http://news.nationalpost.com
Scientists look to lotus leaves when they want to think of the most waterproof material in nature. Now, scientists at MIT have developed a man-made material that is even 40% better than the lotus leaf. Called "Super hydrophobic", the secret to the most waterproof material are teeny ridges. The more you can segment a droplet of water, the less contact with a surface is made. Ridges cause water droplets to break up and bounce off faster than surfaces without such tiny ridges. Patterns of ridges were applied after observing the veins of nasturtium leaves and the ridge patterns on the wings of Morpho butterflies. Such technology will be able to make our clothes stay more dry and could also be used to help airplanes stay drier, too.
The Ring of Fire, a region in the Pacific Ocean, is known for its volcanic activity. This week, a volcanic eruption caused a new island to appear near to the south coast of Tokyo, Japan. Ash, heavy black smoke and rocks are billowing out of the craterOnly about 660 ft. in diameter, its existence may be temporary.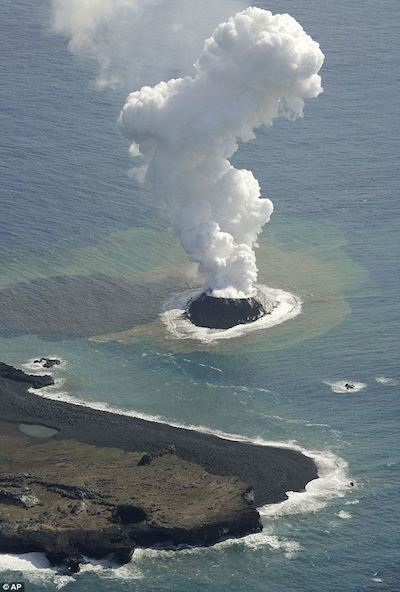 Photograph from Dailymail.co.uk
A tiny clam( Arctica islandica bivalve mollusks) earned the title as the world's oldest animal when it was found off the coast of Iceland back in 2006. Scientists estimated its age at 405 years old. Now, after further study, scientists say that Ming was actually 507 years old when found. Like trees, a clam's age can be determined from the lines on its shell, adding another line each year of its life.The tiny clam was named Ming, because it was born during the Ming Chinese dynasty(1368-1644). Think about this. Ming was alive when Columbus set sail in 1492 looking for a shorter route to the Indies!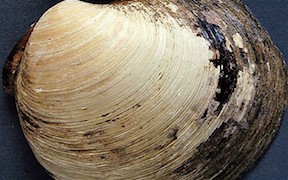 Photograph freom telegraph.co.uk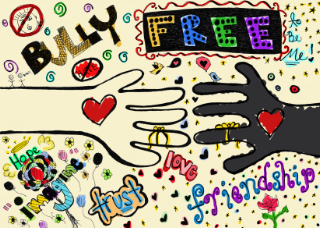 LOOK!
I remember the saying "Sticks and stones may break your bones but names can never hurt you". Personally, I never thought this to be true. Words are very powerful and negative words can hurt-a lot! Each day, thousands of young people experience some sort of bullying, either in words and/or actions. These two sites have great resources which might be of help to classroom teachers, parents and young people:
Stop Bullying!

Please check out the Anti-Bullying information on the Icon on the left margin
To any young people visiting my website. Please,if you are being bullied, seek help...SPEAK TO AN ADULT today!And, if you SEE something that looks like bullying-SAY something to an adult!

"The school is the last expenditure upon which America should be willing to compromise."FDR
"If a man empties his purse into his head, no man can take it away from him. An investment in knowledge always pays the best interest."(Ben Franklin)
"You must be the change you want to see in the world."(Mahatma Gandhi)
"School is a building that has four walls-with tomorrow inside."(Lon Watters)
"We know the future will outlast all of us, but I believe that all of us will live on in the future we make."(Senator Ted Kennedy)
"The purpose of life is a life of purpose." (Robert Byrne)
<""The purpose of life is to amount to something and have it make some difference that you lived at all."(Dear Abby)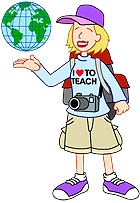 Special thanks to EducationWorld for letting me use this image of my "alter ego" as Mrs. "Waffenschmidt!

About Gail:

I have retired from teaching after 33 1/2 years in the classroom. Of that time, I taught Grade 6 Social Studies teacher for 31 1/2 years.I earned my BA in early secondary education with a concentration in social studies from SUNY Oneonta, New York, and my MST in social studies education from Binghamton University in New York. In 1988, I was awarded the Outstanding Elementary Social Studies Classroom Teacher of the Year Award from the New York State Council for the Social Studies. Additionally, in 1988, I was also awarded the Outstanding Elementary Social Studies Teacher of the Year Award by the National Council for the Social Studies.

My work has appeared in most children's publications including:
Appleseeds,Scholastic's Super Science,Scholastic's Science World, Highlights for Children, National Geographic World, Ranger Rick, Cobblestone, Faces, Muse Magazine, Contact Kids, US Kids, Action Magazine(Scholastic), Girls' Life, Boys' Life, American Girl, Instructor, Creative Classroom, Middle Years, Time for Kids, Scholastic News, Scholastic News Zone, Time for Kids , Ask Magazine, Dig, Calliope, Cobblestone, FACES, Studies Weekly, Glo Adventurer, and more.




---